CALVARY CEMETERY
Pokagon Township
Cass County Michigan
PAGE 1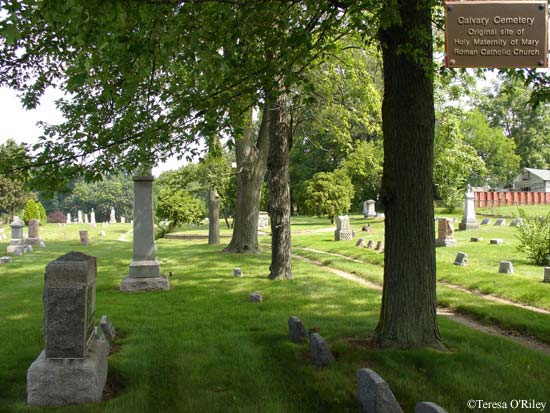 Photo taken by: Teresa O'Riley

This site under contruction - This is an older reading done several decades ago.
Calvary Cemetery is located at the western end of West Prairie Ronde Street, Dowagiac. While it does not contain all of the Catholic burials in the city, most of the families of that faith have their plots here.

Updated on Aug 24, 2011. Please keep in mind that the sites on Cass County were constructed by volunteers and are being maintained by volunteers. If you have additional information or photos of the stones in any of the Cass County Cemeteries, please contact me at cassmichigangen@yahoo.com
Deanna West - your new Cass County Michigan Coordinator.
Any time you view an older cemetery, in no matter what county through out the USA, the listing should be considered as a partial listing as many times records are either destroyed through mishap or not all burials were recorded.
Many of the stone photos linked to this page were contributed by: Rhonda Fahey.
Page 2 of Calvary Cemetery


Beginning at the Southwest Corner and working in a regular sequence
SURNAME
FIRST NAME
DATE OF
DATE OF
COMMENTS
BIRTH
DEATH
GEBHARD
CHARLOTTE
1882
1940
photos contr. by
Ronday Fahey
GEBHARD
HELENA
1868
1933
wife of Henry
GEBHARD
HENRY
1866
1952
GEBHARD
LIZZIE
CONAWAY
KATHERINE
1886
nee GEBHARD
GEBHARD
MICHAEL J
1850
1906
GEBHARD
MAGDALENE
1861
1917
wf
CAREY
BRIDGET
1858
1940
CONNERY
HARRIE
1878
1940
GACDESKI
ROSE
1888
1939
wife of Joseph
GACDESKI
JOSEPH
1875
1934
OSTROSKE
STEPHEN
1872
1938
OSTROSKE
ZUSANA
1882
1933
wife
KRZIZA
IDA E.
1887
1933
KRZIZA
MARILY F.
1929
1933
dau
CREEDON
MARY A.
1859
1935
ROSEWARNE
HELEN
1900
1932
???? IN
GOERGE
1858
1933
OHALA
ELIZABETH
1860
1931
ULRICH
ARTHUR H.
1890
1931
METRAS
ELMER
1871
1938
CHALA
ELIZABETH
1911
1930
wife
ULRICH
ANTHONY
1864
1930
MEYERS
HAZEL B.
12/24/1897
12/23/1927
MEYERS
CLARENCE V
2/12/1897
2/22/1935
VERBANAC
BLASS
1906
1929
VERBANAC
ZERESA
1865
1936
BYRNES
JAMES
1961
1929
BYRNES
EMMA
1862
1941
OCHSENEEIN
CATHERIN
1862
1931
WALSH
JOSEPH
1869
1939
KOZMER
LOUIS
1862
1937
KOZMER
BARBARA
1866
1929
wif of L.
?? ESSEL
BERTHA
1885
1940
?? ESSEL
VINCENT
1868
1936
SHILTS
HELLEN GRESSEL
1900
1927
SHILTS
RALPH LESLIE
1896
1936
PROTCZAK
JOSEPHINE M.
1886
1929
PETRON
GEORGE
1881
1927
BARSCZ
ILLY
8/9/1906
11/15/1926
GOMBICKI
JOE
3/26/1934
Prvt. Q. N. Corps
PTAZKIENICZ
?????
1878
1926
NIEWIADOMSKI
??????
3/13/1924
4/25/1937
WILSON
BEVERLY M
1926
1931
STRAIGHTS
MARY E.
2/8/1863
5/5/1928
O'NEILL
JOHN P.
1888
1938
O'NEILL
JOHN CHARLES
7/12/1924
7/14/1924
son of J & M
SEMEIR
ERNEST AUGUST
1844
1924
LIZAK
EDWARD L.
1905
1924
BIEK
JACOB
1862
1926
LIEBER
CAMILLE F.
1884
1928
LIEBER
KATHERINE
5/28/1885
2/29/1972
w/o CAMILLE - Correction from Barbara Wilson
BIEK
LEO JOHN
1903
1940
BIEK
CATHERINE E.
1865
1928
BIEK
CHARLES
18960
1935
BIEK
FRANK B
1892
1933
THAYER
MILDRED
1913
1919
GEBHARD
MATHILDA
1884
1918
FLELELLING
LYLE H.
1868
1934
FLELELLING
ELENE A.
1875
1916