HARWOOD CEMETERY
Newburg Township
Cass County Michigan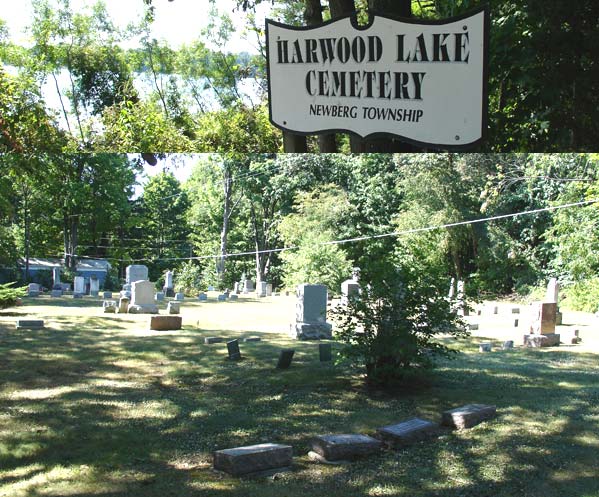 Photo taken by: Teresa O'Riley

Old DAR listing typed for the Internet by: Christine Scott and placed on line April 30, 2007. - -Harwood Cemetery is located on Harwood Lake Road, Jones, Newburg Township. Please keep in mind that the sites on Cass County were constructed by volunteers and are being maintained by volunteers. If you have additional information or photos of the stones in any of the Cass County Cemeteries, please contact me at cassmichigangen@yahoo.com
Harwood Lake joins Corey Lake and is it possible that in some obituaries, this cemetery at one time was called Corey Lake Cemetery. Only a small portion of Corey Lake (in section 24) may be found on the East side of Cass County with the bulk remainder of this lake in St. Joseph County, Michigan.
Deanna West - Cass County Michigan Coordinator.
Any time you view an older cemetery, in no matter what county through out the USA, the listing should be considered as a partial listing as many times records are either destroyed through mishap or not all burials were recorded.
From DAR Reading of July - 1932
SURNAME
FIRST NAME
DATE OF
DATE OF
AGE
COMMENTS
BIRTH
DEATH
HARWOOD
HIRAM
11/16/1874
82y 10m 10d
HARWOOD
SYLVIA REED
2/10/1879
83y 3m 13d
wf of H
HARWOOD
SARAH ANN
8/13/1842
16y 13d
dau of H & S
READWAY
BETSY
7/29/1850
19y 7m 1d
dau of H & S Harwood
REED
JONATHAN
9/23/1847
78y 1m 1?d
REED
PHEBE
2/14/1851
76y 2m
HARWOOD
SILAS
9/23/1828
12/31/1905
son of Hiram
HARWOOD
NANCY
10/23/1838
05/27/1917
wf of Silas
HARWOOD
FRED
1858
1900
son of Silas
SAND
SALLY
11/1 (4) /1861
64y 5m 8d
a relative of the Harwoods, born in Bennington, VT.
HARWOOD
NATHAN
9/9/1821
09/29/1903
son of Hiram, A Civil War Veteran
HARWOOD
SARAH
1909
wf of Nathan
HARWOOD
DIANTHA
3/27/1861
wf of Nathan
HARWOOD
DIANTHA W
3/27/1861
37y 5m 14d
dau of N
HARWOOD
BLANCHE E
1/11/1867
10/17/1879
dau of N
HARWOOD
LILA S
11/27/1868
8/31/1891
HARWOOD
NANCY
12/8/1799
11/21/1852
wf of Nathan Sr.
BEADLE
DAVID
12/21/1862
02/26/1929
son of Valentine
BEADLE
VALENTINE
1831
1907
BEADLE
REBECCA (SHEPHARDSON)
1833
1910
ANDRSON
BERTHA (BEADLE)
1873
1915
BEDLE
FRANCIS M
8/27/1874
25y 6d
son of David
SHEPHERDSON
ABNER
9/19/1827
10/16/1896
SHEPHERDSON
HELEN MOON
1/7/1837
06/10/1906
wf
SHEPHERDSON
OLIVER
1832
1909
SHEPHERDSON
MATILDA
1851
1930
wf
SHEPHERDSON
JESSE
son of above, no dates
SHEPHERDSON
POLLY
6/15/1870
24y 2m 4d
sister of Oliver, Abner, and Mrs. Valentine Beadle
SHEPHERDSON
INFANT
1928
son of Burt & Glennie Shepherdson
SHEPHERDSON
ADOLPH
1860
1896
SHEPHERDSON
LODEMIA
1866
HARWOOD
PETER
2/28/1850
50y 8m 13d
HARWOOD
MARY B
2/21/1851
44y 7m 26d
HARWOOD
SAMUEL
2/16/1850
19y 11m 11d
CARR
EMILY
2/22/1851
22y 2m 23d
wf of Thomas
DECKER
ELIZA
5/5/1851
41y
wf of Solomon
HOSKIN
ASA
1815
1871
HOSKIN
ELIZA J
1831
1915
HOSKIN
EMMA J
1856
1862
HOSKIN
ALICE
1866
1919
HOSKIN
GEORGE
1862
1920
HOSKIN
MARTIN
1864
DECKER
ELIZA
9/20/1868
65y 11m 29d
wf of Jacob
WILLIAMSON
RACHEL
11/5/1865
35y
wf of John
SWINEHART
JACOB
12/29/1820
2/4/1890
SWINEHART
ELIZA
6/3/1866
6/3/1866
dau
SWINEHART
WIFE
no records
ALLEN
W J
9/5/1872
age illegible
son of J & H M
STEVENSON
LYDIA
1855
1880
BOWLBY
LANSON
07/17/1910
08/08/1910
WING
ISAAC E
1831
1912
Civil War Vet
WING
MARY B
1836
1913
WING
LIBBIE
1872
1896
dau
WING
INFANT
dau
MCKEE
DAVID P
2/23/1872
28y 5m 28d
MCKEE
ESSINGTON
1834
1915
Civil War Vet
MCKEE
RHODA
1840
1859
MCKEE
MONTA
1874
1874
MCKEE
DANIEL F
1830
1899
MCKEE
FIANA
1831
1869
MCKEE
JAMES
1840
1855
MCKEE
ELIZABETH
1798
1877
MCKEE
DAVIS
1798
1862
YOUNG
CHARLES
7/18/1882
15y 26d
YOUNG
MAUDE A
3/17/1870
YOUNG
INFANT
1870
HAYDEN
CARL
10/21/1893
40y
CHASE
"MOTHER"
NORTON
LOREN C
7/4/1883
62y 9m 12d
NORTON
URANIA
3/12/1875
54y 11m 1d
wf of L C
BELL
ALFRED
BELL
LERA
BELL
INFANT
son
BELL
JOHN
6/1/1815
02/18/1900
BELL
SUSAN
4/1/1815
4/25/1892
KNIGHT
HIRAM
1846
1892
Civil War Veteran
KNIGHT
LOUISE
1849
1922
KNEVELS
GRANVILLE
8/25/1816
10/3/1894
KNEVELS
MARGARET
8/7/1818
2/1/1893
KNEVELS
TWO INFANTS
MILLS
JOHN A
2/29/1888
10/09/1909
Civil war Vetera
MILLS
MARY B
1/8/1839
4/2/1887
wf of J
MILLS
SARAH
dau
MILLS
INFANT
MASSER
WILLIAM A
1836
1911
MASSER
SARAH A
1835
1908
MASSER
LAURIA
9/17/1868
9/10/1879
MASSER
LOUISA
10/16/1871
10/5/1879
MASSER
CHARLEY
11/21/1876
9/17/1879
WELLS
SUSAN H
1/22/1883
42y 8m 14d
wf of B F
DARLISON
GEORGE
10/26/1846
04/17/1912
Civil War Veteran
DARLISON
MARY A
1/9/1842
8/12/1888
wf of Geo.
DARLISON
CHARLOTTE
7/22/1876
9/6/1879
dau
RIFENBERG
A J --"MOTHER"
STANDERLINE
THOMAS
1800
1879
STANDERLINE
GEORGE
1830
1921
STANDERLINE
JENNIE
1/18/1876
5y 11m 2d
dau of G & J
BROWN
HAZEN W
2/9/1816
6/1/1894
BROWN
MIRANDA A
2/5/1819
2/21/1891
his wife
BROWN
L B B
9/8/1879
COX
GOULIN (?)
10/27/188
6y
son of Thos & Sarah
COX
??????
4y
son of WM & Rose
BULLOCK
JOHN T
10/30/1835
08/30/1904
Civil War Veteran
BULLOCK
EMMA
1848
1921
BULLOCK
EDITH
11/30/1874
5y 8m 19d
dau of J & E
WHITE
ELIZABETH ELLEN
9/6/1865
4y 11m 6d
dau of T & Eloz
BROWN
PHINEAS
6/17/1850
65y
BROWN
SILA E
11/18/1865
66y 7m 23d
wf
Newer Burials
Hess
Doris (Bond)
8/18/1896
Sep 1973
m1. Jay Baker who preceded her in death - he's buried
Riverside Cemetery
m2. Henry Hess buried here in same cemetery
Hess
Gertrude (Manus)
1882
1942
Hess
Henry A
1889
1961