By: Ultimate Design

Cass County
Michigan
Tidbits

Letters | Reunions | Notes

John H. Oakley, buried at Riverside Cemetery, is my John's brother, Joseph's son. I was so excited to discover where he is buried this week.
Go to findagrave.com and search for John H Oakley in Michigan, Cass County, Riverside Cemetery, you can see my memorial and follow the family links.
Joseph Oakley, John's father, was in Dearborn, in 1850, so I'm not sure how John ended up in Cass County. Joseph moved on to Kansas and his son, John H., stayed behind in Michigan. John married Martha Jane Robinson. Her parents are buried at Riverside (Spencer and Nancy) and I wonder if John isn't even on their lot with them. John and Martha had two sons, William H. and John H. (yes, another John H.!!!). I think William is the one in Berrien but I haven't proved that yet.
John died young, at 37. The record I found said that he died in Cass County but I was wondering if he could have been a Civil War soldier for Cass County. John's cousin died at the Battle of Williamsburg, so that made me start wondering. from the file of Krueger, Cynthia <Cynthia.Krueger@witc.edu>
Webmaster note. - William Oakley is living in St. Joseph, MI in the 1880 census and his mother Martha is in the next city of Benton Harbor. I believe this to be the same family. William died 15 September 1886 in Benton Harbor.
William R. Adams & Mary Adelia "Addie" Hill's - family and history. (See Marriage Certificate this site)
After marriage in 1864, Howard Twp, Cass County, IN - they also lived in Pike Twp, Warren Co., IN;
Covert, Van Buren County and Niles, Berrien County, MI. They had a total of 12 children, 10 of which lived
into the 20th century.
Note from contributor of family research:
The family is mentioned in the book "A Stronger Kinship" by Anna-Lisa Cox
concerning their time in Covert. After the civil war, William, Adelia and
their growing family lived for a time in West Lebanon, Indiana then moved
back to western Michigan. William Adams is a mystery prior to his 1863
draft registration, but his wife's family lived in Cass County for quite
some time. Moving there from Ohio around 1844. Mary Adelia Hill Adams was
the daughter of Henry Nelson Hill and his wife Elizabeth. I have traced
their family back to Orange County VA in the 1750's.
William and Adelia were my great-great grandparents. Anyone who is
researching the Adams or Hill families can contact me at the following
email. merlinwv@frontier.com
Thank you, and I hope the information provided will be helpful.

Rebecca Adams Palmer
Marcellus, Michigan Stock Farms Photo Added - from the Scrap Book of Tom McKee - C. W. Bowers proprietor.
These were some of my relations business as they imported livestock and
horses from other areas, including California where Wm and Edward Bowers lived. Circa 1940's.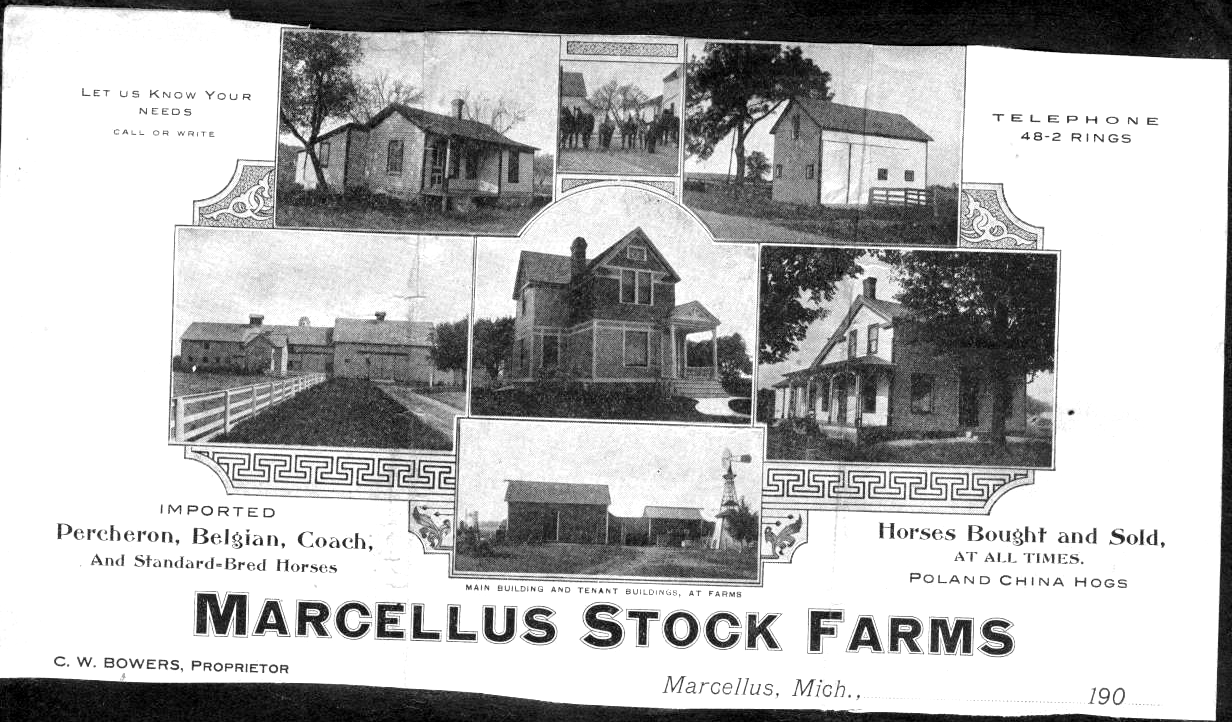 Bowers Family Reunion Circa 1925 - from the Scrap Book of Tom McKee
click on photo for larger image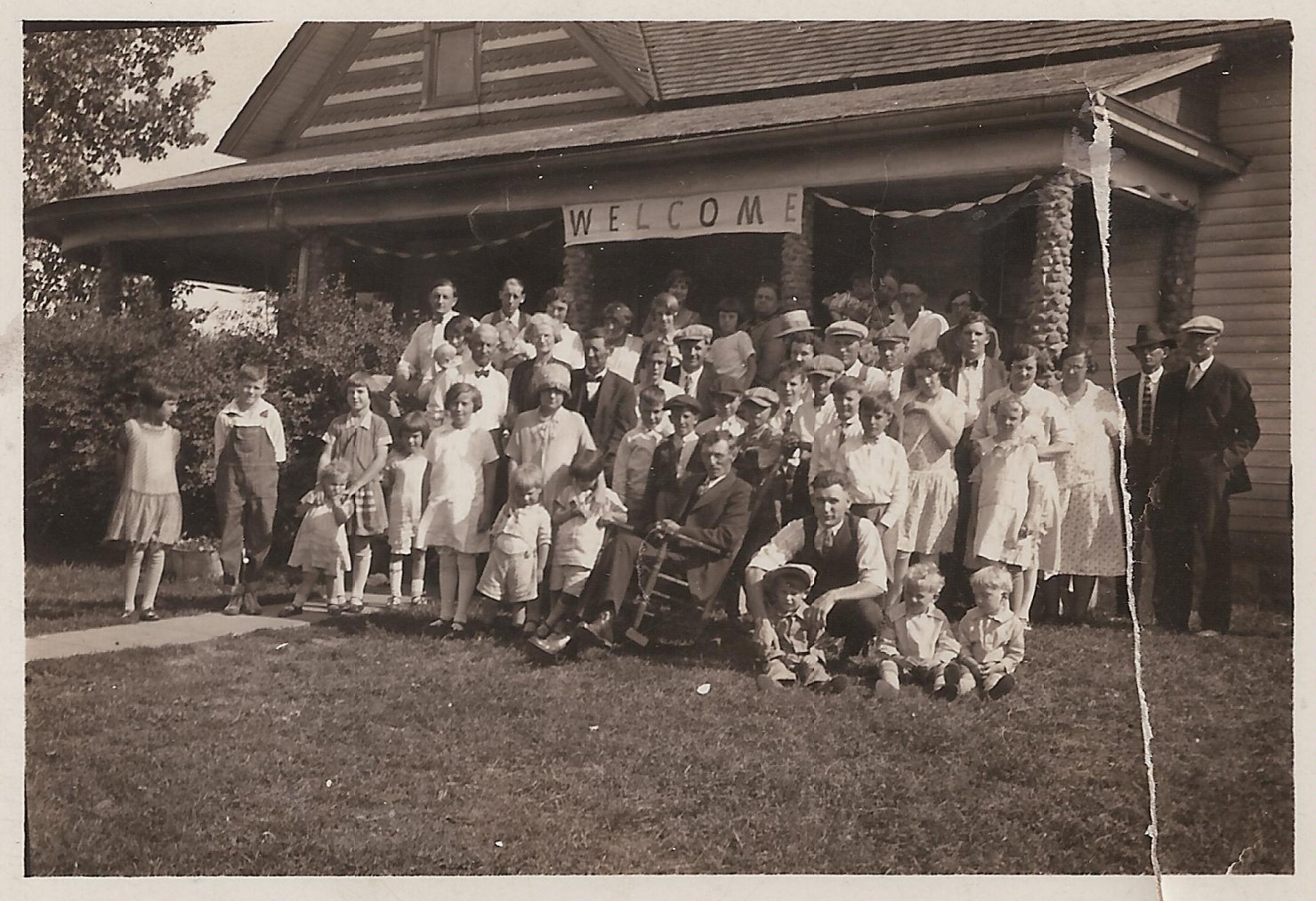 If you have submissions for the site, please contact us at
cassmichigangen@yahoo.com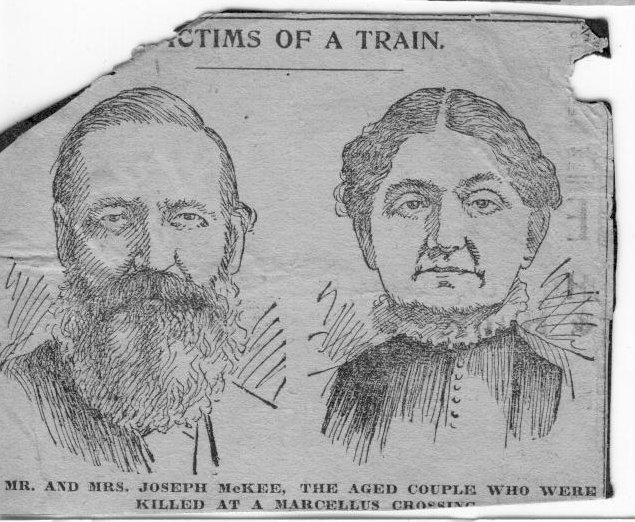 Joseph and Mary McKee 1897 buggy and train wreck victims
Train Wreck Article - below - click on photos and articles for larger views.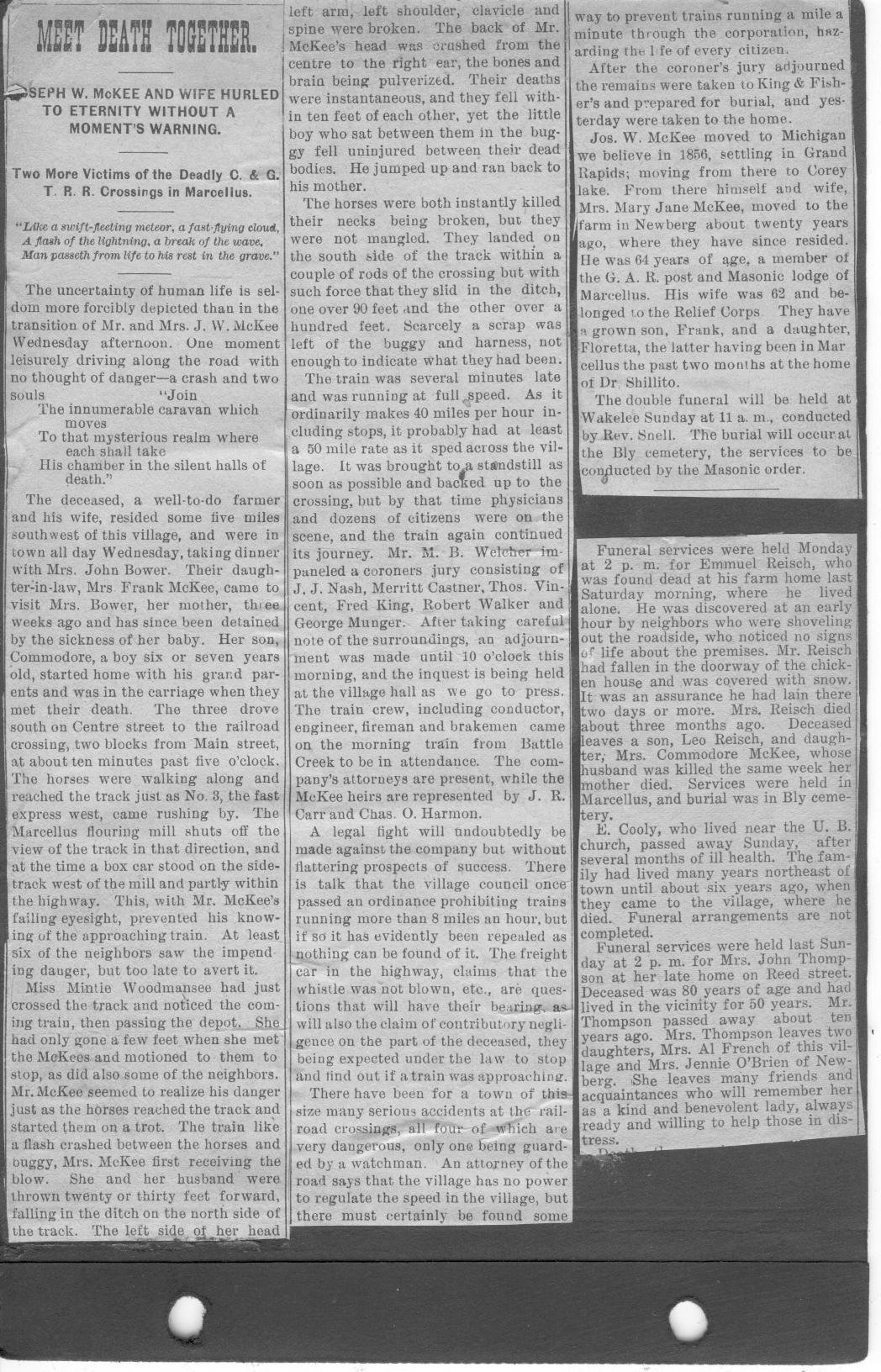 ==========================================
McKee Family Reunion in Marcellus 1906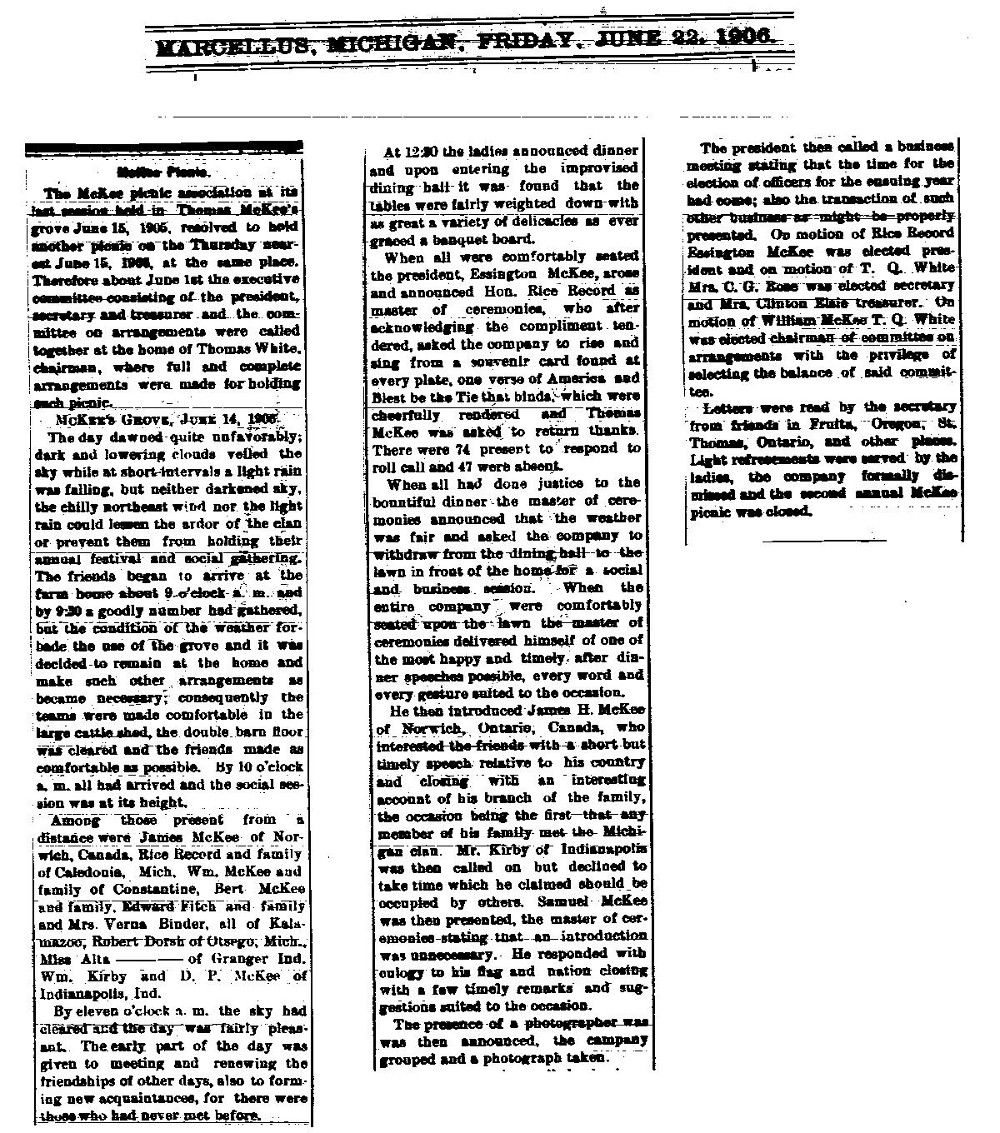 McKee Family Reunion July 10, 1908


Frank and Katherine Alverd (Bowers) McKee --- Golden (50th) Wedding Anniversary Jan 1, 1939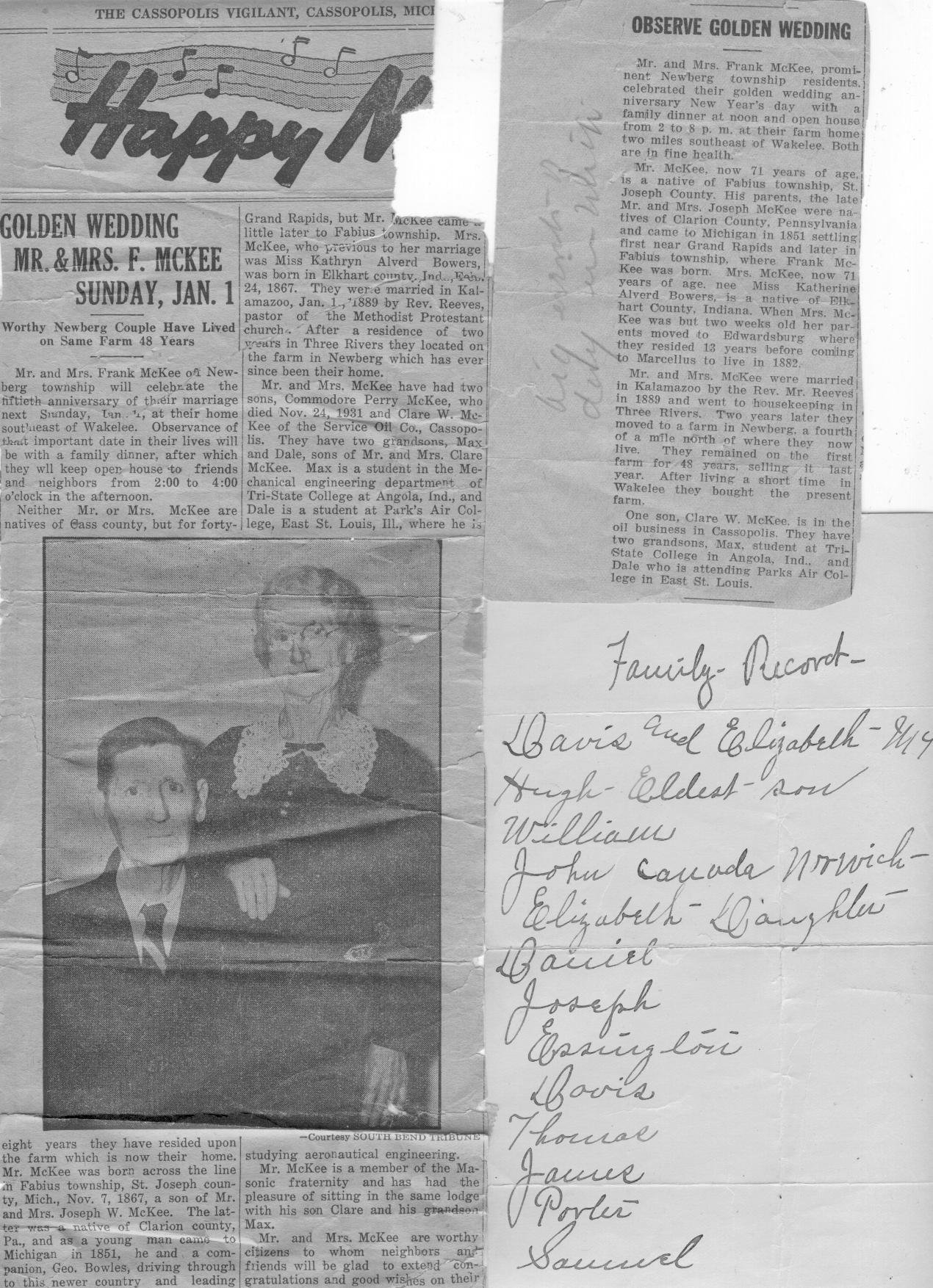 ==========================================

Joseph Hamilton Burns who came to Cass County Michigan in 1843. He purchased land on Mason Street and that land is still in the family.
Joseph married Rachel Simmons in 1851. She was the daughter of Lorenzo and Ann Gale Simmons. She died. There were no children.

Joseph married Louana Charlotte Loomis Tharp in 1854. She was the daughter of Harlin and Charlotte Loomis and the widow ofSolomon Tharp.
She had a son, Harlin Tharp who was born in 1846. Joseph and Louana had 5 children. Louana died in 1873. We have a record of all of the descendant.
Joseph married Ann Eliza Cowell Whitman in 1874. She was the widow of Orrin Whitman and had a son, Walter Whitman. She died in 1892.
I am searching for information about

:

*

Harlin Tharp

. I know that he married

Alice Ashley

, daughter of Rev.

James and Polly Ashley

and that they had a son,

Judson B. Tharp

.

* the siblings of Louana Loomis Tharp Burns: Horatio Loomis and Lucy Loomis.

* Walter Whitman, son of Ann Eliza Cowell Whitman Burns. - from the files of :

Heather Burns




Stewart Family - Cassopolis Vigilant Thursday, August 16, 2001 Vol. 136, Num 33 Staff Writer: Thomas Moor
Stewart Family - Meeting for 100 years in Cassopolis "If your father was a Stewart - you were there," said Patty Jordan of Springfield, Ill,
attending the 100th Stewart family reunion Saturday. A procession of wagons, horses and old cars made its way from the location of the
first family reunion on the corner of Mt. Zion and Calvin Center roads to the home of Robert and Joan Curtis on Cassopolis Road, Cassopolis.
Dorothy Stewart of Van Wert, Ohio, remembering attending the reunions when she was a little girl of four. Wearing an old fashioned bonnet and dress, s
he had a place of honor with other senior members in a horse drawn wagon which mirrored the one in which the Grand Marshall rode in 1901.
The family has celebrated the reunion on the second Saturday of August every year. People from all over the country travel to the remote place in
Cass County, which so many of the family has called home over the years.

The family met at the Calvin Township Hall in the morning. A parade, which featured old cars and 1900 outfits, started off the day's festivities.
The half-mile-long convoy then traveled the three miles to the Curtis home. The only other time the family had a parade during its reunion was at its very first one.

David Steele was riding along on his 1935 Farmall F20, pulling a cart full of family members. It hadn't been used in over 10 years,
and Steele admits to fixing it up just last week for the reunion. "The next 100 years will be the hardest for it," said Steele, a 70 year-old Dowagiac resident.
Steele's sister, Ruth Steele, 65, was talking about how special it was to have the tractor in the parade.

"It was our father's tractor," she said. "It's special for the both of us.

" Barbara Mitchell, the family's historian, was helping to run the show, while informing everyone who passed by about some of the historical markers.
Some of the roads and lakes in that area are named after people in the family. On Saturday she was all choked up. "I want to cry," said Mitchell, 54,
of Cassopolis. "We always have a large crowd. It's such an historical event. To miss it would be awful." Barbara explained to all those in the parade of Stewarts
Saturday passing the intersection of Calvin Center and Mount Zion roads; "There use to be a store with a hall above, on the South West corner where the first
Stewart reunion was held in 1901."

Seldom does anyone in the family ever miss the event. "The reunion covers a lot of states," said Renee Grady, secretary and treasurer of the family
and a Dowagiac resident. "The more people I talk to say they don't have reunions. It's important to know your background and who your family is. After God,
I think it's second on that list."

Carolyn Taher; 64, of Dowagiac rarely misses the reunion. "I haven't missed more than two reunions in my whole life," She said.
"It's a very important part of the family heritage. There is a desire to be part of the tradition, from the East Coast to the West Coast." And in between.

There was plenty of food to be eaten at the Curtis house. After that, the family got together and talked about their history and what they have been up to
the previous year, while the kids went and played games. At the end of the day, there was a hay ride.

The Stewart family was originally from Virginia. They then moved to Ohio. Little Berry Stewart was the first in the Stewart family to move to Michigan,
settling in Calvin Township in 1856. He went from Ohio to Michigan on horseback.

Once the Stewarts got established in Cass County, they began meeting for the annual reunions. With some luck, there will be a 100 more.
Article submitted to website by Esther Stewart
==========================================
Young family from Ohio -
Probably Young brothers from Central OH:
Alexander Young(s) b. 1819 OH, probably Crawford Co.: m. Adeline Ankeny/Ankney 2/1841 Crawford Co. OH; d. 1877 Cass Co. MI Children: Jackson,
Mary Ann, Martin Luther, Elizabeth, Sarah, Polly, L. Alexander, Martha, Johathan, Frank M.
William Young b. 1821 Ohio, probably Crawford Co; m. Susannah Ankeny/Ankney 1843 Crawford Co. OH; d. 1909 Cass Co. MI Children:
Amaziah, Isaac, Mary Margaret, Henry Minerva, Elizabeth Ann (Eliza), (Nathan) George, Elden, William Henry (married Lucy Edith Bent Poe), Charles, Lettie May
Eli Young(s) b. 1832 Wyandot Co. OH; m. Rachel Rebecca Fredricks in Cass Co. MI in 1856; d. 1873 Cass Co. MI
Children: Rachel, Flora, Arminda, Anne, Fredrick, Daniel contributed by: - Linda Dickey at - dickeylc@aol.com

==========================================

Orville A. Rood - In regards to Orville A Rood, Civil War Veteran buried at Fish Lake. He was my Great Grandfather, my mothers Grandfather.
Orville survived the Civil War after several engagements in the South. The story that was handed down to me by my mother, is that Orville was sitting
on his front porch in Pokagon Township,during a thunderstorm. As bad luck would have it,he was sitting close to the chimney, which would have run up
the outside wall of the house.A bolt of lightning hit the chimney,traveled down to Orville's location and killed him outright.
- contributed by: Roger A Williamson at rogerw@tcworks.net

==========================================

Mr. R. Thomas Bergman sent me an envelope filled with data about schools and other wonderful things in Cass County.
It was clear by the contents within the envelope that Tom has a great fondness for this county where he grew up in and returns to from time to time,
now being a well known doctor. Thank you Tom.
In Genealogy terms, Mr. Bergman's father, Roy Edwin Bergman, born November 29, 1894 in Rapid River, Michigan, was a veterinarian who pioneered
some surgical techniques specializing in the treatment of horses. Well known throughout SW Michigan, Roy E. Bergman passed away on Feb 10, 1964 and his wife,
Lois, nee Townsend, (wed - Nov 10, 1925) died April 29, 1964.
Roy and Lois, other son, Dr. George A. Bergman, carries on his fathers veterinary practice, and still practices part time at the BergmanVeterinary Medical Center,
Cassopolis, Mi. That practice has been continuous since 1923. Mr. Bergman's great grandfather, Gamiliel Townsend, on the maternal side of the family,
was an early settler, along with the Loux family.
==========================================

Car Train Fatal - Accident on January 7, 1946

Jan 7.1946- Fay Gwilt on the way to Dowagiac after buying this car 1926 Model A ---

Was struck at M-62 and O,keefe Street, Cassopolis Mi by a train on the Grand Trunk Railroad

Fay Burdette Gwilt- s/o Clifford and Edna Gwilt

Born-Feb.3,1924- Dowagiac. Mi. Died -Jan 7 1946- Cassopolis Mi.

Buried Dewey Cemetery -Lot 94#

Photos and data contributed by: Dorothy Gwilt
==========================================
Volinia Cornet Band
Can you help us? - - For larger image click on photo
Unidentified men in photo above. But here is some history on the band:
The band was organized Nov 13, 1877 and the following officers elected on the 24th:
William W. Patrick, Pres; Edward Goodenough, VP, Edgar C. Everett, Sec; Milton J. Gard, Treas.
After practicing faithfully they were able to produce quality music that their families and friends took pleasure in listeining to.
In 1882 the officers and members were M. W. Welcher, Pres; Charles Warner, VP; E. C. Everett Warner, Sec; E J. Gard, Treas;
other members being G. W. Gard, E. Thompson, A. C. Kirby, A. Hathaway, William Wright, William Hart, L. P. Gard,
Clark Finch and Abram Cary. The band was still in existance in 1911. - Photo contributed by: Wendy VanderVeen

During the week of April 12, 1906 we learn from local newspapers that Robert Dine who was a tenant on the Aaron Toney farm sold all his stock
and farm implements at an auction on that Monday which was held, he then moved to Dowagiac.
Along with this Elias Jewell, during this same time frame, rented the Aaron farm and moved there from Cassopolis.

After a weeks worth of fishing at Lake View, Herman Rutter returned to his home in Dowagiac during the week of July 19, 1906.
==========================================
Cassopolis Vigilant - July 11, 1918 - Page 1 Two men Killed on Railway Crossing
Verne Clark and Mack LaPorte of Volinia Struck at Galsburg.
Mack Laporte was instantly killed and Laverne Clark so badly injured that he died on the way to the hospital, when their auto was struck by a
Michigan Central train just west of the Village of Galsburg last Friday evening.
Mr. Clark, who was a parner in the firm of Etter & Clark, conducting a general store in the village of Nicholsville in Volinia township,
had driven to Camp Custer earlier in the day with an auto load of eggs, and was accompanied by Mr. Laporte, also a resident of NIcholsviller. ...
the article goes on to describe the accident and then states.....
The remains of both men were brought to Nicholsville. Mr. Laporte's funeral serveice was held at the Volinia Baptist church Monday forenoon,
conducted by Rev. Collins, pastor of the church. Deceased was 72 years of age.

The funeral service for Mr. Clark was helf at Bethel church Monday afternoon and was largely attended. Deceased was a son of
Albert Clark of Penn township, where he was born Dec. 2, 1883 and where he had always resided until a few month ago,
when he left the farm to engage in the mercantile business at Nicholsville. A few years ago he was married to Etherl Ray, who, with on sone, Alvin,
survives him as does his aged father, Albert Clark and a brother Ray Clark, to whom sincere sympathy is extended by a host of friends.

Harwood Lake vs. Corey Lake - It was brought to my attention in May of 2009 that Harwood Lake Cemetery was once Cory Lake or Corey Lake Cemetery.
Evidently at one time the Corry or Corey family owned land in the Newberg township area but by the 1900's the lake designated as Cory Lake had been changed
to Harwood Lake. Harwood Lake now empties into the remainder of Corey Lake with a small portion in Cass County the the bulk of Corey Lake extending into
St. Joesph Co., Michigan. If you examine the Cass County Maps for different time periods, you will see the change occur. Also in the 1928 map of Newberg township,
the cemetery location is designated with a + symbol.
It is easy to see why the names might have mingled and interchanged over the decades. Joshua Corey arrived in the Corey Lake area circa 1836
and the following year Hiram Harwood arrived and settled close to Joshua. The change of names for the area can also be proven by reading the
Cass County History which states that Hiram and his wife were buried in the "Old Corey Burying Ground". Years later when this cemetery was read,
it was shown as Harwood Lake Cemetery.
A further note of interest is that Hiram Harwood's daughter, Melisa Harwood (born May 17, 1816) wed Joshua Corey at Corey's Lake, Michigan,
May 18, 1834. She died in 1852 and Joshua in 1888. We have, to this date, not found their burials.
==========================================
Anna (b. Germany) & Joseph Nowak (b. Germany), Volinia Twp, Cass Co. Children: Joseph Jr. 1870, Nickolas 1871 (D1912, Crane Cem),
John 1874, Katy 1879, Elizabeth b.1881 d.1956 (grmthr) & Benjamin 1887. From maps, farm located on Marcelles Hwy. just past four corners.
(turn r. at Marcellas & Decatur Rd. coming from M-60, past BigWoods and thru stop sign.) Two brothers of this family buried in cemetary on right before Big Hill
on Decatur Rd. I beleive the Nowaks were homesteaders. Elizabeth married Ernest DeGraff, So. Bend, In., early 1900.
I can be contacted at goddessofkitch@comcast.net Thank you, Sheryl DeGraff

==========================================

December 10, 1858
Grand Travers Herald
We have recieved 3 numbers of a new Republican paper published at the island of Mackinac by: James L Gantt. (The Mackinac Herald)
For some years past he has conducted the Cass County Tribune and establishe a fair reputation as a vigorous and forcible writer.
St. Joseph Herald - May 4, 1878
The Lansing Republican Says" "Rev. A. S. Kedzie has removed from Dowagiac to St. Joseph. He is a brother of Dr. R. C. Kedzie of the
Agricultural college. During four years of ministerial labor in Dowagiac he preched 475 sermons, married 25 coupled,
attended 25 funerals and received into the church about 60 members.
==========================================
Cassopolis Vigilant - May 27, 1897 page 4
Lafayette Osborn of Iowa is visiting his grandparents, David Avery and wife.

Edwardsburg
The Sunday School convention at the M. E. church here last Saturday was fairly well attended notwithstanding the inclemency of the weather
and the interest in the work seems to be increasing.

Jas Farmum and son of Cassopolis were in town on day last week on business. They will be here every Tuesday to do dental work.

Mrs. Wm Lyons of Calvin is the guest of John Qiumby and wife.
==========================================
Cyrus Bacon and Melinda Guersey were the parents of Cyrus Bacon, Jr, who was a Civil War surgeon.
Cyrus Jr. died at a young age from "Brights" disease and left his pregnant widow, Arabella Knox Bacon with three young children, Knox, Lyle and Cyrus III.

Arabella raised the children in the Niles-Edwardburg area. Her Parents, Elizabeth Cholwell and Abraham Philip Knox, moved to that area from Red Hook,
New York in 1855. Between the Bacons and the Knoxs, Arabella had a lot of family support. Her youngest son, Cyrus III, died at the age of 5.
Her other two sons, Knox and Lyle, put themselves through Medical School and became physicians.
Lyle has a wonderful diary of his experiences during these times. Terry Gorton, a great grandson of Knox, and I have been trying to piece together
the family in the Niles-Edwardsburg area.
Terry has two of Cyrus Bacon Jr's civil war swords along with Cyrus's Civil War commissions and other info.
Most recently he shared with me a photo of a home we think may be in the Edwardburg area. (See our County photos page)
Notes on the back of the photo say the home was located on the Edwardburg Road just outside the Niles town limits. We are wondering if this home still stands,
picture attached. Terry has 3 Sherton chairs which are like the ones on the front porch. They belonged to Jacob Cholwell, who brought them over
from England about 1795. (Jacob was Elizabeth Cholwell Knox's father.) Would you have a way of finding out about this house?
We know the Knoxes and Bacons both owned property in this area. Contributed by: Virginia Bacon at vcbacon@sbcglobal.net

History of Camp meetings. In the late 1830's to early 1840's the first camp meetings are believed to have been held in a grove on a farm then owned
by Stephen Curtis on the sight of Sumnerville, and when you crossed the Clyborn bridge, over a half mile away,
you could hear Elder McCool preaching as though you were there.

At that time, they called preachers elders. Elder McCool and Elder Richard Meeks were the two leading preachers in the county.
Mr. McCool was a large, powerful man and his voice could be heard in every part of the grove, chosen for their meetings.

Later the meetings were exchanged from the Curtis farm to the grove on the Shaw place in Howard. Those who attended these meeting noted that arrival
of Elder Meeks, Erkenback and Elder McCool and of McCool, he said he could fight as well as he could preach.

Recalling of "Cripple" Bailey At one of the meetings Frank Bailey, who often thoughtlessly called "Cripple" Bailey, had a lunch counter and lemonade stand,
and drove his team of dogs to Niles and back in an hour. He usually drove a team of three pairs of dogs, and gave exhibitions in the county school houses.
He walked on his knees and at one time had accumulated a good farm, but his last days were spent in poverty and misfortune.

Later the meetings were changed to a place on the Edwards farm, south of Pokagon village. Here on the bank of the historic Pokagon creek were a number of springs,
and stately trees furnished the shade and harmonious surroundings. Then they were changed to the woods on Rogers farm across the cheerful Dowagiac
and near Sumnerville. The community was growing and at one such meeting a man sent a load of watermelons to one of the gatherings held.

Around March 15, 1861, meetings were moved to an unimproved spot known as Crystal Springs, in Berrien County, Michigan. -
Synopsis from The News-Palladium August 5, 1903 pg 3 Col. 1
Click on Graphic to see original, typed below by Esther Stewart so search engines can pick up names in article and donated to the site by Davis C. "Doc" Ball.


LOOKING BACK IN DOWAGIAC APRIL - 1903

It was reported that the Democrats "are still it on the board of supervisors in this county, the Republicans having only gained one in the recent election." The newly elected board included the following:

Marcellus ~ C.H. BEARDSLEE, R; Volinia ~ JOHN R. ROOT, R; Wayne ~ JAMES FERREL, D; Silver Creek ~ JOHN SWISHER, R; Pokagon ~ JOHN H. PHILLIPS, D; LaGrange ~ CHARLES H. KIMMERLE, D; Penn ~ B. J. LINCOLN, R; Newberg ~ FRANK DUNN, R; Porter ~ SAMUEL SKINNER, R; Calvin ~ CORNELIUS LAWSON, R; Jefferson ~ Henry C. Davis; Howard ~ LOREN A. ALLEN, D; Milton ~ O.V. HICKS, D; Mason ~ JAMES H. GRAHAM, D; Dowagiac first ward ~ WILLIAM VROOMAN, D; second ward ~ JOHN BILDERBACK, R; and third ward ~ DANIEL SMITH, D.

Special Easter music was to be presented by the choir of Holy Maternity of Mary Church, assisted by ARTHUR REED, Clarinetist. The personnel included: sopranos - VERNA HACKETT, LOUISE DALY and Mrs. M.J. WHALEN; altos - CARRIE GEBHARD and MARGUERITE STOLLEY; tenors - J. HORN and CHARLES CLANCY; bases - GEORGE RAPP and JOHN RAPP; and organist, Mrs. MAUDE STOLLEY.

The Dowagiac High School baseball team was preparing to go to Niles to play. The players were; KARL LILLY, catcher; DON RESHORE, pitcher; JOHN SMITH (ss); REED BOSTWICK (1B); WILL HAMILTON (2b); WILL LAKE (3b); TOM HACKETT (1f); ARCHIE HARRISON (cf); OTIS GARDNER (rf); and JOHN ACKERMAN, (sub).
APRIL - 1913

The Sunday School which had disbanded at Sumnerville 18 months before, was reorganized with FRANK ULLERY as superintendent;
and Mrs. THOMAS SWISHER, Mrs. FRED JONES, Mrs. C.A. CULVER and Miss PRIMLEY as the teachers.

GEORGE P. STEELE, 64, died at his home southwest of the city. He came to Dowagiac as a boy of 17 from Newark, Ohio,
and for 30 years was a blacksmith here. Later he moved to Chicago following the same trade there for 10 years. When his health failed he returned to Dowagiac to live.

APRIL - 1933

Michigan ratified the repeal of the 18th Amendment and thereby became the first state in the union to ratify repeal.

HARRY CARTER of Porter Township was elected the new chairman of the Cass County Board of Supervisors to succeed FRANK CURTIS.

HENLEY SILVER, 73, lifelong resident of Pokagon Township, died at the home of his daughter, Mrs. RALPH MILLER, southwest of the city.
April - 1953

"Shawnee, Okla. - The body of 64-year old JIM THORPE, hailed by millions as the greatest athlete in the world, will be buried in the scrub oak country
of eastern Oklahoma where he was born. Catholic funeral services will be conducted at St. Benedict's Church. Following the funeral the body will be
placed in a mausoleum at Fairview Cemetery until a $100, 00 shrine in his honor is completed. THORPE, who climbed to Olympic fame from humble
beginnings as a Sac and Fox Indian tribesman, died two weeks ago at his home in Lomita, Calif. From a heart attack."

At the Century, JENNIFER JONES and CHARLTON HESTON in "Ruby Gentry."
And don't miss the "New" Site connection under Published and Research Connections. It is the Southwestern Michigan Directory with histories and stories about Cass County.
Southwestern Michigan Histories

St. Joseph Herald - Feb 11, 1871 pg 1
The Cassopolis Democrat says: By courtesy of Chas. W. Clisbee, reading clerk of the House, we have received a copy of the Congressional Globe for the 21st ult., by which we perceive that a joint resolution reported from the committee on military affairs by Gen. Stoughton, was passed. The resolution directs the Secretary of war to iss and deliver condemned and unserviceable brass, bronze, or iron cannon to a number of cemeteries, monument associations and villages.
That portion of it in which we are locally interested provides that one piece of condemned cannon be given to the corporate authoriteis of Cassopolis and to Dowagiac, to be used in adorning and emblellishing soldiers cemeteries. The same resolution also gives one piece to Coldwater, Sturgis, Constantine, Allegan, St. Joseph, Paw Paw, Decatur, Niles, and four pieces to the Michigan Soldiers Monument Association of Detroit.
==========================================

Looking back - Dowagiac - Contributed by: Davis F. "Doc" Ball

Click on Graphic to see original, typed below by Esther Stewart so search engines can pick up names in article.
AUGUST - 1904
"Atty. C.E. SWEET returned home on a early morning train from New York where as a member from Michigan of the Committee to notify President Roosevelt
of his renomination, he was present Wednesday at the historical gathering at Oyster Bay. Atty. SWEET has an interesting story to tell of his trip.

"He found the president a everyday sort of gentleman and his family a common family. KERMIT, the youngest, is said to be a real boy in more ways than one.
Evidence of this quality in the youngest Roosevelt cropped out during the notification ceremonies on the broad veranda of the Sagamore Hill residence
when KERMIT produced a toy cannon from his pocket. Inserting a percussion cap he was just in the act of interrupting Chairman CANNON'S
speech with an explosion when his mother discovered what he was about and caused him to leave the porch.

"Some of the envious young ladies of Dowagiac might be pleased to know that Miss ALICE ROOSEVELT is just an angular,
freckle-faced girl with a penchant for green snakes and t he great outdoors."

"Ten acres of the MARY L. WHITNEY place, adjoining the PETER HANNAN and ACK VAN RIPER places have been platted into lots
by ALBERT BRIGGS, the agent. County Surveyor HAINES did the work."

AUGUST - 1914

"The sinkhole on the highway between Silver Creek and Keeler Townships north of this city may never be filled owing to the enormous expense it would entail
on Silver Creek Township which has the mile of this road to keep up. Fortunately it is not a main traveled road, although its being an impassable one leaves
the two townships with two miles to travel on the north and south roads before they can cross to the east or west.

"The old Jacket marsh now owned by SAM JONES is the cause of this trouble and the distance across it where the road runs is only 20 rods.
Soundings have been made and it was found that the road bed runs over what has one day been a little lake, with the shore running down gradually
until the depth is about 25 feet in the center. Efforts have been made several times to cover the roadway and make it passable but in a short time the
dirt put on the roadbed sinks out of sight. After a buggy containing two couples crossed the road near Magician Lake at night and slid into the water,
the part crossing the marsh, was closed."

"JOHN F. COOK of this city and CLYDE HART of Marcellus Township yesterday afternoon purchased the jewelry stock formerly owned
by Mrs. SYLVIA SNYDER. Under the name of COOK & HART the new purchasers will continue the business in the present location in the Elks Temple.
AUGUST - 1934
"BASIL CURL, who opened a drug store in the BIGELOW building a few months ago, announced the store would be closed."

Mrs. SARAH M. CARYL, 87, one o Pokagon Township's oldest residents, died at her home near the farm where she was born Sept. 10, 1847,
the last survivor of the four children of HENRY and MARY MCCOY STRETCH. Her husband, NELSON CARYL, died in 1916.

==========================================

Morlan family.---- Here are some dates you may want to add to the Morlan family. Jacob b. 1798 in VA .~ Sarah b. 1809 in OH. they m. in 1826 in OH.
The children's b. dates are~
John b. 1827 in OH.
One can see that the Morlan's were making their way to Mi. (most likely by oxen wagon) as all their children from here were born in Volinia Twp, Cass Co. Mich.
(Another family I followed, my grandmothers, had a birth in Penn. and 2yrs. later their next birth was in MI. that may have been the length of time it took
to get to the "West" by oxen wagon.
William b. 1829 in MI. (he is the Wm. w/ d. 1853)
Jacob J. b. Nov. 1830
Sarah b. 1833
Elizabeth b.1834
Susannah b. 1836
Joseph b. 1839 (the CW Vet.) 8th child no info
Civilla b. Feb. 1843
Lewis b. Sept. 1846
Elias C. b. 1848 - Contributed by: Kaye Stewart at kayestewart@jacobsadvertising.com
Marcellus May31, 1879 - Paw-Paw True Northerner
A disease called Black Diphtheria broke out among the children. Three children from one family died besides several others in town.
Schools were closed due to this dreaded disease.

Bio of Charles W. Clelland - he was my father's stepfather. He was born 13 Jul 1869 in Volinia twp, Cass, MI - son of William Clelland & Maryetta Jacquays Clelland.
He married Julia Dickman 26 Aug 1926, in Kalamazoo. He died 5 Nov 1941 in Kalamazoo, MI. He is buried at Riverside Cemetery in Kalamazoo, MI. Contributed by: Maryann Root

A scrap Book History of Decature Michigan & Vicinity 1829-1976. Page 1439
==========================================



THE LITTLE GIRL I USE TO BE

The little girl I used to be

came along and sat by me

She wondered how I'd carried out the things she used to dream about.

I scarcely wished to meet her gaze and tell her of my present days,

She was so trusting and so very wee, the little girl I used to be.

"The heathen you were going to teach?" "Why child, I wouldn't dare to preach!"

"The pictures then, where are they now?" "I couldn't learn to draw somehow."

"The book that you had planned to write?" I'll start that very book tonight?"

"Well, what," and in her eyes were tears, "What have you done with all your years?"

"Life is so different, child, you know, from all you dreamed it long ago.

Dreams are such quaint, elusive things - like star-light on an angel's wings,

I couldn't make your dreams come true for I had other things to do . . . . .

" I bent to hear what she would say but sadly she had tipped away

And nevermore was I to see the little girl I used to be . .... .

Author unknown - contributed to the Cass Michigan site by Esther Stewart
==========================================
Killed by Horse - Old Niles newspaper clipping dated about May 27,1881 - On Tuesday of last week an old man named Washington Benson,
who with his family and a neighbor had left Porter township, Cass county, bound for Iowa, was killed by a vicious stallion he was leading to a stream
for the purpose of watering. There were two wagons and the families had stopped near the MrMullen corners, on the LaPorte Road to eat their dinner.
Mrs. Benson started with the horse for the brook for the purpose mentioned , when it became frightened at some passing object. He struck it with a small stick,
which seemed to madden the animal, and grabbing his victim by the coat collar with its teeth threw him on the ground and struck him in the face several times with his feet,
stamped him on the breast, almost flattening it, and horribly mangling other portions of the body. When picked up the unfortunate man was a horrible sight,
and though life was not yet extinct, he lived but a few minutes. Parties near attempted to drive off the infuriated animal, but did not succeed in time to save the man's life.
The family being poor, the people living near the scene of the accident kindly defrayed the funeral expenses of the old man and the remaining members
of the part continued on their sad journey westward.

Return From West - Vincent Saratore, Floyd Riddle and Donald Whalen have returned from a month's trip through the West during which they motored 8,500 miles.
Highlights of the trip were stops at Yellowstone and Sequoia Nation Parks, the Bad Lands, Black Hills, Carter Lake, Death Valley, the Grand Canyon and
Old Mexico. They spent a week and a half in California. August 28, 1940.

==========================================

ORLANDO MCKUNE RETIRES Sept. 30th 1927
brought to an end the working days of Orlando McKune for the Big Four Railroad to close after eighteen years of service.
At the noon hour, James Clark from section1 and James Billings from section 2 with their crews met Homer Marks and his crew from Niles, with which Mr. McKune is connected.
The meeting occurred near Indian Lake and a potluck dinner was enjoyed in Mr. McKune's honor. Following the dinner he was presented with a $5 gold pieced dated 1909,
the year he began work for the railroad. He received various other gifts from his fellow workmen, including a birthday cake, which was presented by Mrs. Bert Emerson
in remembrance of his 70th birthday anniversary Sept. 27. Mr. McKune will be missed by members of his "gang" with whom he was known as a trusted friend and agreeable companion.

==========================================
SIXTY BEAUTIFUL YEARS - Circa 1907
Remarkably Well Preserved Couple Celebrate Anniversary in Silver Creek.
At the Aaron Nott home in Silver creek was celebrated on the 23rd, the 60th anniversary of the wedding of Mr. and Mrs. Geo. W. Nott,
a happy gathering of 25 friends, besides the relatives, assisting. Geo. W. Nott was born in the state of New York.
He with his parents moved to Ohio, and later to Bertrand where, September 23rd, 1847, he was united in marriage to Mary McKuen a native of Pennsylvania.
For several years they lived in Berrien, an din the 70-s they moved to Pokagon, and about six years ago they moved to Silver Creek, where they reside with their son Aaron.
This estimable and beloved couple is still enjoying the health, which good habits and a life of industry and generous impulse brings, and they bid fair to live for many years yet.
Mr. Nott was 83 years of age in July, and last week he walked to town, a distance of 4 ½ miles, making the trip without fatigue and refusing the offer of his son to bring him.
Mrs. Nott was 84 last April, and she insisted upon assisting in preparing the dinner for their anniversary, although the daughters finally prevailed upon her to put
on her white apron and sit with the guest and be a guest of honor with them. There were present at this remarkable anniversary-remarkable for we seldom have
the distinction of chronicling such events-the daughters, Mrs. Mary Stockmon of Silver Creek, Mrs. Dell Cooper of this city, and the son Aaron,
with whom the grand old couple live. Besides the above were the grandson, Floyd Grimes, and about 25 guests, neighbors and well wishers.
Recitations and music followed the sumptuous dinner, Mrs. Floyd A. Limbeck reciting the following poem, composed by herself for the occasion:
SIXTY BEAUTIFUL YEARS - Sixty years ago today. In a little cottage brown, There stood a youth so brave and tall, And a girl in her wedding gown.
Somely was he, and straight and strong. And the sunlight never fell. On a sweeter face than the fair young girl's, The girl he loved so well.
Ah, sweet was her voice as she whispered low The tender words, ' I will", And though many years have rolled away He is lover still. Tender
and true the long years though And the record is fair and white Few are they who can say today

"It is sixty years tonight. Since you and I stood hand in hand, And vowed that we'd be true Till god should send his messenger,
Dear heart, for me-or you. Oh, what a wealth of memories So many years much hold. Treasured within their hearts today Like jewels of worth untold.
Sunshine-sometimes the shadows- And now the sunset light Shedding a wonderous beauty on these dear heads so white. Faces of loved ones long gone home
Still linger in they heart. And often in the twilight The loving teardrops start. But in the quiet hours of night When all around is still They heart knows that his way is best
And bows unto his will. Patient and faithful, tender and true The crown thou shall sometimes wear Will never be half so bright dear heart As the crown of they silvery hair.
Sixty years, ago, ah me, How swiftly the years have flown Children and children's children To manhood and womanhood grown. And all their lives, they will cherish T
hrough love and laughter and tears The record that though hast given to them These sixty beautiful years.