| | | |
| --- | --- | --- |
| | Welcome to Cheyboygan County | |
Welcome to Cheboygan County, Michigan's website for genealogical research! THE CHEBOYGAN COUNTY MIGenWeb WEB SITE IS UP FOR ADOPTION. IF YOU HAVE AN INTEREST IN DOING CHEBOYGAN COUNTY, PLEASE CONTACT Jan Cortez.

Please note: The Cheboygan County mailing list and query boards (info below) are provided for all researchers to ask questions, request lookups, share information, etc. Please take advantage of these wonderful resource tools!! Unfortunately, I cannot provide information for your personal family research since I do not live in Cheboygan. Thanks!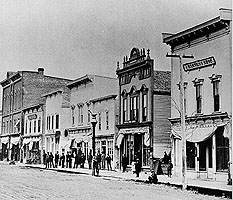 1875 Main Street, Cheboygan
Cheboygan County was formed in 1840 from Mackinac County.
It is one of the two northernmost counties in the lower peninsula.

More Cheboygan County History

---
What's New on Cheboygan
Sept 2012:

Obits
Cheboygan County Resource Tools
Search this website:
---
GENEALOGICAL SOCIETY
Cheboygan County Genealogical Society
The Society scanned the Cheboygan County Cemetery Book and posted it on their website.
---
QUERY/MESSAGE BOARDS:

Ancestry/RootsWeb Message Query Board ****** Genealogy.com Message Board
---
MAILING LIST:

Cheboygan County Mailing List
---
Michigan USGenWeb Archives

Cheboygan County
Michigan USGenWeb Archives

The Cheboygan County website is part of the MIGenWeb project.
The State Coordinator is Jan Cortez.
---
Please send Cheboygan County contributions or report any broken links to:
Copyright 2004- by Deb Haines/MIGenWeb Project. All rights reserved.
Copyright of submitted items belongs to those responsible for their authorship or creation unless otherwise assigned.