Clinton County, Michigan
We have moved...we are now clinton.migenweb.org
Welcome! This website is part of MIGenWeb, a network of websites that provide online genealogical information about Michigan counties. MIGenWeb itself is part of USGenWeb, a network of state genealogy websites. These websites are all-volunteer and provide free information for your personal use.
If you are looking for information about your ancestors who lived in Clinton County, I hope you find it here. If you have information about your ancestors, I hope you will share it here. If you can volunteer to transcribe Clinton County genealogical records, please contact me. This website is the result of many volunteers. It will continue to grow in the number and variety of resources only with volunteers like you. Your help is greatly appreciated!
Wayne Summers


Site Coordinator
Using This Site
Start your search for Clinton County information at the main Research page:
Some links go to a page on another website. Use your browser's BACK button to return here.


Search
Search This Site
(Does not search information in images or linked sites.)

Search Clinton County MIGenWeb Archives
Contacts
Can you help? Can you contribute information? Can you volunteer to transcribe records? If you have questions, suggestions or contributions concerning this website, please send an e-mail to the site coordinator using the link below.
Clinton County Site Coordinator: Wayne Summers
Help is needed throughout the country, whether it is for a county coordinator, look-ups, the Census Project, the Tombstone Project or assisting the county coordinator in maintaining a page. Contact the MIGenWeb State Coordinator:
MIGenWeb State Coordinator: Jan Cortez
Neighboring Counties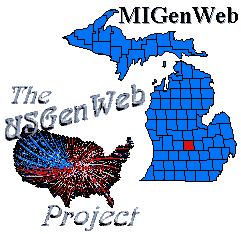 MIGenWeb sites for counties that neighbor Clinton County:
Disclaimers
ALL RIGHTS RESERVED: The information on this website is protected by United States copyright law, Digital Millennium Copyright Act of 1998 (see US Copyright Office). Individual genealogists may copy and use the information found on this website for personal use ONLY. It is not to be copied or altered in any way for commercial use nor for use on another webpage without the written permission of the Clinton County site coordinator.
You may link freely to this website using the following link:
Where information has been provided by someone other than the site coordinator, written permission must be obtained from the submitter to copy the information.
Every effort has been made to insure the information found here is accurate. You are however encouraged to check the primary source for accuracy as errors are possible.

Revised: August 24, 2017
Site Coordinator:
Wayne Summers
Copyright © 2009-Present Wayne Summers
Portions copyright © 2004-2009 Mike Voisin. All rights reserved.
Portions copyright © 1999-2002 Dennis Zank. All rights reserved.
Portions copyright © 2002-2004 Bonnie McVicar-Briggs. All rights reserved.
Portions copyright by their respective contributors.
This page is not officially sanctioned by Clinton County, Michigan