KALAMAZOO COUNTY, MI
GENEALOGY & LOCAL HISTORY

CELERY CULTIVATION
CELERY FLATS INTERPRETIVE CENTER
7335 Garden Lane, Portage, MI
1/4 mile east of South Westnedge Ave.
269 329-4522

The Portage Creek Bicentennial Park includes an interpretive center (open seasonally) dedicated to explaining the importance and history of celery farming to region. In addition to the main building, the center has a working celery farm area.(be sure to visit the Portage Creek Bicentennial Park page)
The Center features photographs, graphics, artifacts, equipment, and other materials connected with celery farming in Kalamazoo.
A guided tour is available for a small fee.
click on links to see photos !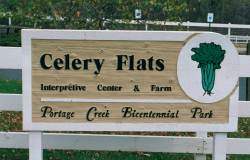 Entrance to the Interpretative Center
The beginning of celery cultivation and Dutch immigration: stalk (Pascal) celery was not grown in Holland, just a celery flavored herb. More important than experience with a particular type of crop grown, the Dutch brought experience with heavy wet soils and labor intensive one crop farming versus multi crop farming generally for home consumption. (Also, see the DUTCH HERITAGE PAGE)
---
The Hard Work of Growing Celery
"It's no genteel, light work or child's play to grow celery." wrote Frank Little, Kalamazoo's first chronicler of the industry in 1886."The drainage and subjugation, cultivation, and gathering the crop almost entirely hand work from the commencement to the close is laborious in the extreme. "Kalamazoo County's many plats of wet muck land proved ideal for celery culture, but to transform the muck into miles of smooth and fertile gardens required extensive preparation. The pioneer celery growers, almost exclusively immigrants from Holland, first faced "a long and violent, or rather patient, wrestling with many and sundry tamarack stumps, above ground and below, willow and alder-brush, or the tough and wiry massasauga grass."