Lenawee County Michigan Maps
---
| | | | | | |
| --- | --- | --- | --- | --- | --- |
| 6 | 5 | 4 | 3 | 2 | 1 |
| 7 | 8 | 9 | 10 | 11 | 12 |
| 18 | 17 | 16 | 15 | 14 | 13 |
| 19 | 20 | 21 | 22 | 23 | 24 |
| 30 | 29 | 28 | 27 | 26 | 25 |
| 31 | 32 | 33 | 34 | 35 | 36 |
Typical Section Numbering Within a Township. Each number represents one square mile. The numbering begins in the right north corner and ends in the right south corner.

Woodstock
Cambridge
Franklin
Clinton


---

Tecumseh
Macon

Rollin

Rome
Adrian
Raisin
Ridgeway

Hudson

Dover
Madison
Palmyra
Bliss-
field
Deer-
field

Medina

Seneca
Fairfield
Ogden
Riga

This is the Position of the Townships within Lenawee County. The borders are not exact.
NOTE: Clintonand Tecumseh & Blissfield and Deerfield each share one normal township space. The lower set oftownships all lost land to Ohio.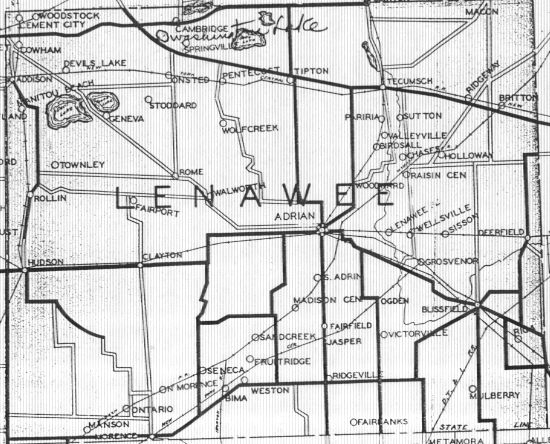 Map of Lenawee and Adjacent Counties in Michigan and Ohio, The Thrift Press, Mapmaker, Rockford, Ill. Thismap found at the Historical Society in Adrian, Michigan. It lists some of the old communities that no longerexist or have had name changes.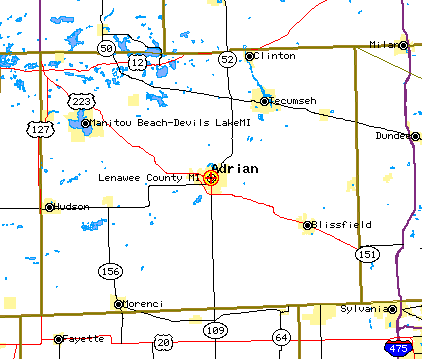 Lenawee County and parts of nearby areas. Adrian is the county seat.
---