SPRING LAKE TOWNSHIP
_________________________
This town is of very irregular shape in the south and west, being bounded on the south by the Grand River, which winds to the Lake by a slow and tortuous course, generally northwesterly, spreading into wide bayous which extend quite across the township to the northeast. On the west is Lake Michigan, the shore line trending to the northwest. The town may be described as the north part of Town 7 and 8 north, of Range 16, west. On the east the boundary line from north to south is fully six miles, on the west the same boundary line is only about half that distance.
Spring Lake is a beautiful sheet of water extending back from the river for six miles to the northeast, away into Fruitport Township, with the main arm to the east reaching up to Fruitport village, and a smaller arm to the west into Stahl's Bay, where good clay for brick making may be found. A little below Fruitport on the bayou are the Spring Lake Iron Works, fully described elsewhere. About the middle of the lake, extending to the east about a mile, is Hammond's Bayou, which is crossed by a bridge about the middle. Smith's Bayou extends into Section 9, from Spring Lake a short distance northeast of Ferrysburg; and Lloyd's Bayou, about two miles long, is west of Spring Lake village. The shore line of Spring Lake and its bayous is about twenty-five miles, and the township has a larger water surface than any other in the county, but has not much more than half as much taxable land as the next smaller township, and considerably less than one-third as much as Holland or Olive townships.
ORGANIZATION.
The town was early organized as a part of the old Norton Township, and was set apart as a separate municipality in 1849, the name of Norton being exchanged for Spring Lake, owing to some petty feeling against Col. Amos Norton, who was a pioneer and one of the most active men of his time. Jabez Barber, from Canada, was an early pioneer and lumberman, and it was a blow to the village of Mill Point (afterwards Spring Lake) when he drowned in coming from England on the ill-fated steamer Pacific in 1854.
The first meeting of the electors for organization was at the school house near Barber's Mill (since consumed by fire) April 2, 1849. Le Moyne S. Smith, moderator; Augustus Stahl and W. M. Ferry Jr., inspectors, and J. Vincent Hopkins, clerk. 29 voters were present. S. C. Hopkins had 24 for Supervisor, J. H. Davison, 3, and Amos Norton 1 vote. M. L. Hopkins was elected Clerk, L. M. S. Smith, treasurer; Justices of the Peace, G. G. Lovell, G. S. Miller, and Jedediah Brown; W. M. Ferry Jr., and P. P. Cady, Directors of Poor. $100 was voted for township expenses. At the election of 1850 there were but twelve voters present, who all voted for W. M. Ferry as Supervisor, M. L. Hopkins, Clerk, and L. M. S. Smith, Treasurer.
J. V. Hopkins was Supervisor in 1851, forty-six voters present. In 1852, eighty-one were present, Amos Norton, Supervisor; A. S. Norton, Clerk. Next year, but sixteen turned out to election, and G. L. Norton was made Supervisor.
On June 20, 1853, a special election was held to determine the question of liquor prohibition, one was against, and two ballots marked "free trade and saylers' writes."
The following have been the rest of the Supervisors in the years marked after their names: Wm. M. Ferry, Jr., 1854-9-1860-61; G. G. Lovell, 1855-6; George Redfield, 1857; J. V. Hopkins, 1858-'66; U. B. Eames, 1862-3-4-5; A. C. Adsit, 1867-8-9-70-71-2-3; J. B. Perham, 1872; D. R. Waters, 1875; Hunter Savidge, 1876; Aloys Bilz, 1877-8; H. W. Pearson, 1879; C. M. Kay, 1880-1. The present officers are (1881-2): C. M. Kay, Supervisor; C. A. Pearson, Clerk; H. Beckwith, Treasurer; Dr. W. S. Walkley, School Inspector; James F. Zwemer, Supt. of Schools.
The fruit interests of this town are perhaps the most extensive in the country, but a few winters ago the peach trees were nearly all killed off, which was a severe blow. In 1874 there were about 700 acres devoted to the various kinds of fruit. In 1872 and 1878 the value of the fruit product averaged over $20,000. To show how uncertain the peach crop is, Mr. Martin Walsh informed us that in its third year a ten-acre plat netted $3,000, and the next year the trees were all killed. Mr. Walsh, who has also an extensive dry goods and grocery store, is the most prominent fruit grower in the town, having forty acres in apple, peach and pear, and three acres in vineyard.
Mr. Martin Walsh, in speaking of the soil of the township, says that sufficient attention has not been given to its agricultural capabilities; but what little has been done shows it to be excellent for wheat and grass. He plows and puts in a subduing crop of oats, and then lets in the cattle. After stumping, he summer fallows to wheat, sowing on two bushels of salt to the acre, and reaps thirty bushels to the acre, and has had splendid grass crops year after year. Off less than three acres, he took two ton to the acre.
BIOGRAPHICAL.
DAVID G. ALSTON, fruit grower in Section Twenty, was born at Glasgow, Scotland, in 1841, came to Wisconsin in 1848, thence to his present farm in 1869. He married Dec. 20, 1853, Miss Margaret Campbell, and has four children: James, born Sept. 18, 1854; Daniel Campbell, Nov. 1, 1855; Margaret, May 20, 1859 (died in 1863); Margaret, May 12, 1865; Christina, June 10, 1869.
B. F. EAMES, fruit grower in Section Nine, was born in Mendon, Monroe County, N.Y., Nov. 21, 1816, and came to Milwaukee in October, 1844. In Dec. 5, 1849, he entered into copartnership with John W. Luscomb in the manufacture of wooden ware. Desiring a location in a lumbering region with the advantage of transportation, they tried first Grand Rapids, but failing to secure the power they desired, they made arrangements with Mr. Ferry to drive their machinery at Ferrysburg, then called Ottawa Point, for five years from April 10, 1850. Mr. Luscomb withdrawing, Mr. Eames continued the business alone, and in 1856 erected a large building with steam power. In 1861 he sold to Messrs. Willard & Bolles, and next year bought twenty-three acres of land across the bayou from Spring Lake Village, now owned by W. C. Baker. Mr. Eames embarked in the fruit business, planting 1,000 peach trees, 600 apples, and also other fruit. In 1867 he sold to Charles E. Soule, and bought thirty acres in Section Nine, which he also cultivated as a fruit farm.
FRANCES M. FINCH, a daughter of Coryden E. and Eliza Hinckley, was born in Fairfield, Huron County, Ohio, in 1851. In 1856 she removed with her parents to Hope, Barry County, Mich., and thence to Kalamazoo County. In 1871 she was united in matrimony to Norman S. Finch, who was born April 16, 1850.
CALVIN HOLCOMB was born in Orleaus County, N.Y., in 1819, and came to Lapeer City, Mich., serving three years in a drug store under Dr. Vincent, of Chicago. He enlisted in the First Michigan Engineers and Mechanics, under Col. Wm. Ennis, Captain Parmelee. After he left the army his chief work was engineering. He married in Detroit, in 1854, Miss E. S. Perkins, and has had three sons.
H. G. SMITH, farmer on Section 16, was born in Steubenville, Jefferson County, O., in 1815, coming to Sring Lake in 1847, working for Jabez Barber at his mill for two years, after that settling on his present farm. In 1842 he married Lucinda J. Sisco, who was born in Cleveland, in 1825. They have had four children, two of whom survive. Mr. Smith is one of the very oldest pioneers of Spring Lake.
_____
SPRING LAKE VILLAGE.
Spring Lake, a very thriving and prosperous village, with many beautiful residences in it, and unrivaled for its beautiful aquatic scenery, was first platted as Mill Point in 1849, by T. W. White and S. C. Hopkins. In two years its population reached 871, but in the next seven years it gained only eighteen in population. But the rise of the fruit interest after this gave it an impetus, as in 1874 half of the improved land was devoted to that object. Lumbering also, although not very profitable, had also considerable to do with its development. As early as 1874 it had nine saw mills in its limits, and some of these, the largest on the river; and also two planing mills and a sash and door factory. The village was incorporated in 1869, the people choosing the following named gentlemen for their officers: President, H. A. Hopkins; Trustees -- Alden C. Adsit, John H. Newcomb and Martin Vischer; Recorder, H. W. Cleveland; Street Commissioner, Stephen Woolley; Marshal, Frank Lilley; Treasurer, L. O. Perham.
Within its corporate limits, which are almost bounded by Grand River and Spring Lake, are six large saw mills, some of which are of immense structure and capacity, one large planing mill, one wash-board factory, three hotels, one of which, the Spring Lake House, owing to the large and well conducted facilities for bathing, the curable qualities of the water, the pleasure of fishing and other sources of amusement, its beautiful grounds and excellent accommodations, has become famous as a Summer resort.
It has also three general stores, two hardware, six grocery, three millinery, three boot and shoe shops, two drug stores, one jewelry and one tailor shop. Also one flour and feed store, one good livery stable, one blacksmith shop, one wagon shop and a barber shop, three doctors, five churches, namely, Methodist, Presbyterian, Baptist, Dutch Reformed and Catholic. A splendid and well attended graded school, two fire engines and a company second to none in the State. In a word, this village is supplied with everything required by a well regulated incorporated town.
Its resources are lumber, fruit and farm products, all of which are made valuable by easy access to water or rail to all consumer markets in the neighboring States. Sail vessels and steamboats are daily landing and leaving its docks. On the whole, this is as clean and handsome a village as the State can boast of with a population of 1,500.
Its present officers are: President -- T. D. Denison; Treasurer -- Otto De Wit; Trustees -- John Koster, Alex. Wood, Martin Walsh; Recorder -- C. M. Kay; Marshal -- M. M. Mc Lean; Street Commissioner -- Euno Pruim.
The village is delightfully situated on a peninsula or tongue of land south of Spring Lake and north of an arm or bayou of Grand River. It is narrower from north to south, and the D., G. H. & M. Railway runs from east to west across the north of the village, whence it runs across the narrow inlet of Spring Lake into Ferrysburg. The chief business street with fine residences at the east end is State Street, one block south of which is Exchange Street, and Liberty Street running one block north and parallel to State. The original plat was in the west to School Street, which was the section line; then comes Barber's Addition, then Bryant's Addition, and various small additions to the southeast.
THE HOPKINS FAMILY.
The Hopkins family had considerable to do in the early settlement of the village, but they have all passed away except the youngest brother, Mordecai L., who is still in Grand Rapids. The widow of Hannibal A., a former Representative of the county, still resides in the village, and her daughter teaches in the public school. She has treasured up some relics of the celebrated Col. Ethan Allen, among which is the sword and scabbard with which that hero, "in the name of the great Jehovah and the Continental Congress," demanded the surrender of Fortress Ticonderoga on May 10th, 1775. This sword is an old-fashioned affair, 27 inches in length, figured with flower-work, and with a handle of bone or ivory 7 inches long. The scabbard is not the original one, but a fac-simile of the one that was consumed in the burning of the Spring Lake Masonic Lodge, in which was the Tyler's weapon. The sword was saved, but the scabbard was burned, and the Brethren took pains to reproduce an exact copy. It has a silver band on which is inscribed, "Ethan Allen, 1775." Ethan died in 1789, and his eldest son, Col. Hannibal Allen, died in 1818, leaving a widow, "Aunty Allen," recently deceased, and who lived many years in Spring Lake, being connected in marriage with the Hopkins family.
The Hopkins family were Silas the eldest, then John V., Hannibal A., Franklin and Mordecai, who were all engaged in the lumbering and mercantile business. They built the Hopkins mill, afterwards purchased by Montague, Savidge & Cutler. About fourteen years ago the mill site proper and other adjoining property were sold to the Spring Lake Mineral Company, who built a splendid hotel, cottages, bath houses, etc., which ultimately fell into the hands of the late Hunter Savidge.
Captain Benjamin Hopkins went from Tompkins County, N. Y., in 1831, to Canada, which he left during the troublous times of the rebellion in 1837, settling in Eastmansville with his four sons and three daughters. Hannibal A. was the third son, born September 5th, 1821, and died July 1st 1871. He was president of the village from its organization to his death, and was actively engaged in agricultural and lumbering operations. He was the originator of the project which resulted in the discovery of mineral springs. He was a man highly respected, and his death was regarded as a loss to the community.
CHURCHES.
The Presbyterian Church of Spring Lake was organized by Rev. H. Lucas, a missionary of the American Home Missionary Society and the Rev. W. M. Ferry, of Grand Haven, on February 12th, 1853. There were five members when it was organized -- George G. Lovell, L. M. S. Smith, Anna H. Smith, Miss Lydia Norton and Harriett J. Franklin. G. G. Lovell and L. M. S. Smith were elected ruling elders. The Rev. H. Lucas supplied the church for a year after its organization, followed by Rev. Henry Rayfield, one year.
The Rev. Joseph Anderson was afterwards minister, he at the same time serving the church at Grand Haven. He was succeeded by Dr. A. P. Eddy, who commenced his labors in May, 1858; he also laboring at Grand Haven. He continued until some time in 1866, and was succeeded, as stated supply, by the Rev. Joseph Lud, who served the church for three years. He was succeeded by Rev. A. G. Bebie, who stayed something less than two years.
The Rev. W. H. Blair commenced in July, 1872. The Rev. T. Towler is the present pastor, and is now in his second year. The first church edifice was destroyed by fire. The present building was dedicated January 26th, 1874. The cost was about $10,000.
From a feeble beginning it has gone on until it takes respectable rank among the churches in the valley, and its fine edifice is an honor to its enterprise. The missionary who first collected the little band went to his rest in 1876. Spring Lake is not the only place that cherishes his memory.
METHODIST EPISCOPAL.
Before the organization of any class there had been occasional preaching. In 1862 a small class of twelve or fifteen was gathered by Elder Wm. Colby, some of the members of which were Daniel B. Thorpe, Mrs. H. A. Hopkins, Mrs. T. D. Denison, Mrs. Wm. Flanders, Mrs. Wm. Britton and Loren O. Perham. Services were held for two years in the schoolhouse, with a slow increase in numbers.
The Presbyterian and Methodist societies bought a partly-built church of the Hollanders; finished and jointly occupied it. That house was so used five years, when it burned down. During this time there was some increase. The Methodists bought the ground of the Union Church, and directly commenced to rebuild, and there were three or four years in completing it. It was dedicated in 1872. At this time the membership was about sixty. The size of the church is 88x60 feet, with basement; cost $7,500. The parsonage, built during the same time, cost $1,200.
W. M. Colby, David Engle, James Roberts, James Cowan, J. R. A. Wrightman, James W. Reid and Levi Master were early pastors. The present pastor is Rev. J. Roberts. The church has been harmonious and generally prosperous.
The Baptists have no settled pastor, but have Sunday School; C. M. Kay, Supt.; Catholic, Rev. M. Dalton, of Berlin, officiates; First Dutch Reformed, J. F. Zwemer, pastor; Children of Zion have no church edifice, but have service in private houses, Rev. Mr. Northrop, of Grand Rapids, officiating; Christian Dutch Reformed have about eighty families, and are about the build.
SOCIETIES.
The societies are Hope Lodge, No. 226, I. O. O. F., with W. G. Sinclair, N. G.; Robert Shearer, Sec'y, which meets on Wednesday evening. Sping Lake Lodge, No. 234, F. and A. M., has the following officers: Enno J. Pruim, W. M.; H. C. Taft, S. W.; J. Volmer, J. W.; F. C. Bury, Sec'y; George Seagrove, Treas.; S. S. Rideout, S. D.; S. Volmer, J. D. The Lodge meets Monday on or before full moon.
Harmony Council Fraternal Protectors meets last Friday of each month, and the Chief Protector is J. B. Perham, and C. M. Kay is Secretary.
The Women's Christian Temperance Union meets every Tuesday afternoon, and the Spring Lake Temperance Union was instituted January 26th, 1882, with James Emory, President and E. D. Frink as Secretary, to fight against the three saloons in the village.
HOTELS.
SPRING LAKE HOUSE.
To the traveling public and the to tourist in search of health and pleasure, a well appointed hotel is a great attraction, and such they will find in the above excellently appointed hotel, now in charge of Mr. John McVicar for the fifth year. The popularity of the house is proved by its being visited by the same people year after year. A double-page view of the house in this work will give the reader some idea of its elegant appearance. It has seventy-four rooms in the main building and thirty rooms in adjoining cottages, and visitors are attracted from all quarters. From St. Louis last summer there were over seventy, and also numbers from New Orleans.
The discovery of a spring of magnetic water in 1870 led to the erection of this large hotel by a company, which ultimately became the property of the late Hunter Savidge, and is now owned by Mrs. Savidge, who desires to dispose of the property, which would be an excellent investment for one "who knows how to run a hotel."
A comparison of the water with the most favorable known mineral waters in the United States, such as the Pavilion and Elcelsior at Saratoga, and the noted springs at Gettysburg, Penns., proves that it has the greatest total of solid mineral matter of either, and is most heavily impregnated with valuable substances. It is in growing demand from all parts of the country. The cures it has effected have given it a national reputation. The virtues of the water are such as have secured it the highest encomiums of physicians and other who have used it, possessing, as it does, in a marked degree, cathartic, alternative and tonic qualities.
The hotel erected at this spring, with cottages attached, affords first-class accommodations for 250 guests. The parlors, dining room and chambers are all superbly furnished. A bowling alley and billiard room afford amusement and healthful exercise. Broad verandas around two sides of the building afford a cool and pleasant promenade and resting place from which the view takes in one of the loveliest lake scenes ever pictured. The lawn surrounding this palatial hotel is beautified with fountains, flowers and trees, and is directly upon the lake shore.
The bath house nearly adjoins the hotel, and is erected over the spring. It is large, elegantly furnished, and complete in all respects, with every approved adjunct deemed advantageous for invalids. Bathing in this water is a luxury. It is perfectly cleansing without soap, and remarkably strengthening. The attendants are faithful and experienced, having been connected with the establishment for the past five years.
SINCLAIR HOUSE.
S. S. RIDEOUT, proprietor of Sinclair House, came to the Haven in 1868, and two years afterward to Spring Lake, and in 1879 purchased the Sinclair House, where he does a good business, having accommodations for about thirty guests. This house is on Division street, near State street, and is the oldest hotel in the place. It was owned over twenty years ago by Robert Clydsdell, who was killed some years ago by a falling tree. When kept by Mr. Barnum it was called the Barnum House. Then it was kept by Walter Sinclair, now foreman of Sisson & Lilley's mill, and its name changed to Sinclair House. Then Mr. Dickson kept the house for a few years, until in March 1879 Mr. Rideout took it, having been burned out of the National Hotel in January preceding.
SCHOOLS.
The Spring Lake graded school contains eight rooms and is under the superintendence of James Warnock, Jr., with Miss Stella Skinner, as first assistant in the high school, which had 40 pupils. Miss Lizzie Shore teaches the 1st grammar department with 53 pupils, Miss Richards in the 2nd department with 45 pupils; in the intermediate department Miss Carrie Patchin has 58 pupils; in the 2nd primary Miss Jessie Gray has 62 pupils; in the 1st primary Miss Fannie Hopkins has 63 in charge. Miss Edith Miller has the Ward School, at Nortonville, with 65 scholars.
SAW MILLS.
The saw mills of Spring Lake in order from the north side of the peninsula, and going first west and then turning east around the south side, which lies on the river, are first the Monroe, Boyce & Co. mill, above which is an unused fruit drying factory, built 1871 by Messrs. T. D. Denison, Aloys Bilz and Mr. Vos. Then west is W. H. Bell & Co.'s one circular mill, then the ice houses and the elegant Spring Lake Hotel and grounds; then the Cutler & Savidge Lumber Co.'s two mills, one a single circular and upright and the other a single circular mill. The company have also a fine planing mill and machine shop. On the river are Cutler & Savidge's, then Sisson's & Lilley's, and finally, farther up the river, White, Friant & Co.'s mill. These three mills are about equal, we believe, cutting about 150,000 feet a day, and all have two circulars and a gang with edgers, etc. Messrs. Sisson and Lilley have two fine new residences in close proximity at the east end of the village, beyond the residence of Mr. Gee, which would be a credit to any city.
HUNTER SAVIDGE.
A history of Spring Lake would be incomplete without a sketch of one whom all acknowledge to be one of the chief factors in the present prosperous condition of the village, a man of great energy and business capacity, beloved by all who knew him. We of course allude to the late Hunter Savidge, who was born in Columbia County, Penn., April 6th, 1828. At the age of nine years he removed with his parents to Northumberland County, where he remained until the age of 21, assisting at carpenter work in the summer and attending school in the winter. At that time he started westward and located at Rockford, Ill., where he was engaged in contracting and building. In 1855 he came to Spring Lake and engaged in the manufacture of lumber. In 1860 the firm of Cutler & Savidge was formed, which became one of the most extensive and best known lumber firms in the West. He was married February 12, 1857, to Sarah C. Patten, of Grand Rapids. Six children were born to them, three of whom have died, and three are still living. January 1st the Cutler & Savidge Lumber Company was formed, of which Mr. Savidge was president. Possessed of a wonderful degree of energy, Mr. Savidge devoted himself unremittingly to the vast business concerns of the company, and his great physical endurance enabled him to perform an almost miraculous amount of labor. But in time his strength began to fail, and it became apparent that he must have rest if he would prolong his life.
In the fall of 1880, accompanied by his wife and Miss Millie Cutler, he made a trip to California, returning late in December, feeling very much improved in health. But the seeds of disease were already too firmly rooted, and upon the 11th of the following April he passed away. His funeral was conducted by the Masonic and Odd Fellow fraternities, of which he was a member. His death was the occasion of wide and deep mourning. All who knew him felt that they had lost a personal friend. Upon the day of his burial the villages of Spring Lake and Grand Haven were arrayed in the habiliments of deepest mourning; flags were at half mast, business suspended, and the appearance of all testified to the universal grief which was felt. Mr. Savidge was beloved by all, and to-day his memory is treasured as a rich legacy by all who knew him. A finely executed steel portrait is presented in this book.
JOHN B. HANCOCK
Intimately connected with Mr. Hunter Savidge in his life work in developing Spring Lake lumber interests, was John B. Hancock, who was born in England April 5, 1849, which country he left when young, with his parents for Corning, New York; and when about sixteen years of age his parents again removed to Spring Lake, his father having an interest in the Hopkins Mill. John early assisted his father, and chiefly by his own exertions he was enabled to give himself a good education. He had been in a New York city school before he came west, and then went to Grand Rapids High School, and was also a pupil of Prof. Everett, and spent one year at the State Agricultural College, withdrawing on account of his health. In order to be of more assistance to his father, and to perfect his business qualifications, he went to Grand Rapids Business College, and when he returned he was employed by Aloys Bilz for about a year as book-keeper and manager of his hardware business. He then entered the employ of Haire, Savidge & Cutler, as book-keeper and foreman of the shipping department. Previous to this he had been in the mill at Nortonville, now White and Friant's, when Mr. Haire sold the mill to Cutler & Savidge and they formed the Cutler & Savidge Lumber Company, taking in Mr. Hancock as one of the partners. In two years he rose to be Secretary of the company, in which capacity he served for five years, until his death occurred. They company was eminently successful.
He was married October 20, 1875, at Spring Lake, by the Rev. Mr. Snyder, of Muskegon, to Miss Ruth M. Beckwith, a native of Spring Lake, and daughter of the Rev. Hiram Beckwith, a retired Universalist minister. Mr. Hancock died March 10, 1881, and with the exception of that of Hunter Savidge, who died three weeks later, his funeral cortege was the largest that had ever been seen in Spring Lake. He was buried at Grand Haven on the 22nd of March, the Rev. S. H. Woodford, officiating clergyman. Mr. Hancock's kind and generous disposition had greatly endeared him to all, and many were the flowers strewed upon his grave, and his widow has been gratified by the kindly letters from firms in Chicago with whom he did business. The pall-bearers were representatives of the leading lumbering firms. He was in politics Republican, and also a member of the Royal Arcanum, and a member of the Baptist church. He was beloved and respected by all, and the death of two such men as Hunter Savidge and John B. Hancock, within a few days of one another, was a severe shock to the community in which they lived. His portrait in steel will be found elsewhere.
GEORGE D. SISSON, of Spring Lake, was born in Oxford, Chenango County, New York, in 1839. In the spring of 1871 he came to Spring Lake, and for two seasons was landlord of the Spring Lake House. His natural tastes were for a more thoroughly business life, and he turned his attention to lumbering. His first venture was the purchase of 300,000 feet of logs from Wilson Shaw, on Crockery Creek, and had them sawed at the Cutler & Savidge mill. In June 1872, he formed a co-partnership with Thomas Seymour, and engaged in the manufacture of lumber. This firm continued until 1874, when Mr. Seymour sold his interest to Francis Lilley, and the present firm of Sisson & Lilley was formed. Mr. Sisson is a thorough business man, a most genial gentleman and deserves the abundant business success which has thus far crowned his undertakings. The firm of which he is the senior member is one of the most extensive lumber manufacturers in the State, and one of the most prosperous as well. He has just completed an elegant residence in the suburbs of Spring Lake, and within easy distance of the mill.
FRANCIS LILLEY, of Spring Lake, was born in England June 23rd, 1844. After coming to this country he remained for a time in Milwaukee. In 1867 he came to Spring Lake and tallied lumber for about five years. Possessed of excellent business qualifications and indominable energy, he began to look for an opportunity to get into business for himself. In February, 1874, he purchased the interest of Thomas Seymour in the firm of Sisson & Seymour and the foundation of the present prosperous firm of Sisson & Lilley was then laid. Although obliged to undergo severe business trials during the hard times, yet the firm has kept moving, and is one of the soundest and most prosperous in the State. Mr. Lilley has just completed a fine residence in the suburbs of Spring Lake, which is a credit to the place and an elegant possession for the owner. Mr. Lilley is a thorough business man in all respects, and a most excellent citizen as well.
In November, 1881 the lumber yard of Sisson & Lilley was visited by a disastrous conflagration, which consumed about 10,000,000 feet of lumber, chiefly, however, the property of a Chicago firm. Messrs. Sisson & Lilley suffered but little loss, as only their office was burned.
PRESS.
The press of Spring Lake is represented by the Spring Lake Message, and independent sheet, first issued in September, 1881, by Charles F. Wasson. It is a sprightly, newsy sheet, full of interesting local matter, and devoted to the moral and material progress of the village and vicinity. The office is on the corner of State and Division Streets.
POST OFFICE.
Le Moyne S. Smith was the first postmaster of Spring Lake, and he resigned in 1857, when H. A. Reed held the office for several years. Mr. L. O. Perham, the present postmaster, has held ever since Lincoln's inauguration, and the office has grown from a salary of $75 a year to be worth $900. The office is in the rear of Mr. Perham's drug store.
MISCELLANEOUS.
Ferries ply regularly every few minutes to Grand Haven and back. They are the "Geo. P. Savidge," belonging to the Savidge Estate, and the "Maude Lilley," owned by J. McCleur. Brick making is carried on largely by Hiel Gray at Stahl's Bay, at the head of the lake. The greatest fire that ever occurred at Spring Lake was that at Sisson & Lilley's lumber yard, when 10,000,000 feet were consumed in the fall of 1881. Mr. Martin Walsh has an extensive dry goods and grocery establishment, and J. B. Perham, Representative in the Legislature, has also a fine dry goods store.
_____
BIOGRAPHICAL.
H. M. ADAMS came to Spring Lake from Clyde, Ohio, in 1867, and in 1870 began work for Cutler & Savidge and has continued in their employ since that time. He has been foreman of the yard at mill No. 3 since 1878. Mr. Adams enlisted at New Haven, Ohio, in 1864, and served one year.
D. W. AINSWORTH, foreman of the planing mill of the Cutler & Savidge Lumber Company at Spring Lake, has been engaged in lumber mills since 1865. In 1863 he enlisted in the army and served in the war until 1865. For some time he was in the employ of the Wait Manufacturing Company at Grand Haven, and has been in his present position since 1877.
ALOYS BILZ was born in Germany in 1841 and came to this country in 1849. In 1854 he came to Michigan from Buffalo, and remained at Detroit until 1866, when he came to Spring Lake and engaged in the hardware trade. He continued in that business until 1871, when his store and dwelling house were destroyed by fire, together with their contents, involving a loss of $30,000. Since that time he has been engaged in the real estate and insurance business. He was married in August, 1864, to May Alice, daughter of Rev. O. C. Thompson, of Detroit. In 1878 he was elected County Register, which office he held for one term. He was President of the village of Spring Lake in 1876, and has has held the offices of Supervisor and Alderman for several terms. During 1879 and 1880 he was editor and proprietor of the Spring Lake Republican -- having interested himself in the establishment of a village paper, he was subsequently obliged to assume its entire control. Mr. Bilz is a stirring business man, full of enterprise and succeeds at whatever he undertakes.
LAWRENCE BOEREMA is a native of Holland and came to this country in 1868 and located at Spring Lake. For several years he followed civil engineering, and since 1877 has been at work for Sisson & Lilley at their mill.
C. P. BROWN, M.D., Spring Lake, was born in Medina, Mich., in 1844. His father, Dr. David Brown, of Medina, is one of the pioneer physicians of the State. Dr. C. P. Brown is a graduate of Hillsdale College and of Rush Medical College at Chicago. He began practice in 1869, and in 1871 came to Spring Lake from Hudson, Mich. At the beginning of his practice he encountered numerous and varied obstacles, but they only tended to increase his energy and strengthen his determination to succeed, and he has done so to a remarkable degree. To-day he ranks among the first physicians of the State, and his practice is very large.
One of the old settlers is MRS. M. BURBANK, whose maiden name was Madora McMahon, and who carries on a confectionery and cigar store and restaurant on the main street. She came to Grand Haven thirty-three years ago, and her husband, Mr. I. Burbank, a carpenter, came from Canada, thirty-two years ago. They formerly lived in Crockery in the Patchin neighborhood, and experienced the hardships incident to pioneer life.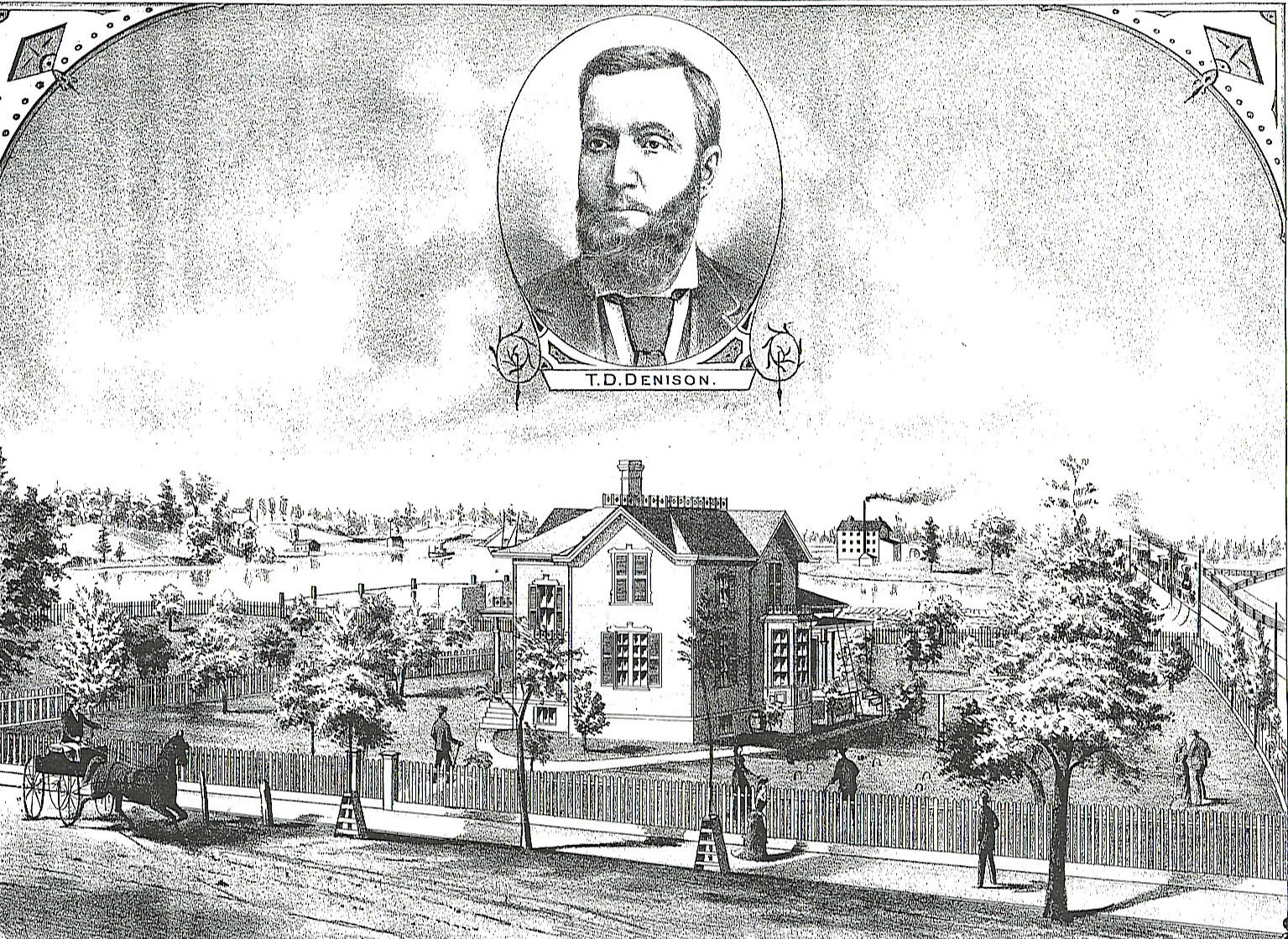 T. D. DENISON is a native of New York State, and came to Spring Lake in 1850 from Grand Rapids. Most of the time since coming to Spring Lake he has spent in the lumber mills. His present place as engineer at the mill of Monroe, Boyce & Co. he has held since 1869. In the spring of 1881 Mr. Denison was elected President of the village for the term of one year. He is one of the few remaining pioneers of the place, and has always been a most excellent citizen. His portrait and a view of his residence adorn this work.
JOHN D. DIXON came to Michigan from New York in 1856, and located in Spring Lake. He has been at work at lumber mills about twenty-six years, fifteen of which he has been filing. He has been filing at the mill of Sisson & Lilley at Spring Lake since 1874.
OTTO DE WIT is a native of Holland and came to this country in 1863, and settled in Spring Lake. For a number of years he worked at his trade of millwright. In 1878 he engaged in the undertaking business, and also opened a wagon and carriage factory, both of which he still continues to operate.
R. F. GRIFFIN is a native of New York and came to Michigan in 1869. Since 1876 he has been in the employ of Sisson & Lilley as a saw filer. He has been filing since 1865.
H. H. HUNGERFORD is a native of Spring Lake, and has always resided there. After leaving school he learned the tinner's trade, and in 1877, in company with C. A. Pearson, purchased the hardware stock and business of Aloys Bliz, at Spring Lake. The firm does a large business and is very prosperous.
HORACE HOWE is a native of New York State and came to Michigan after the war. He enlisted in 1861 in New York State, and served in the army as a member of the 13th New York Infantry until discharged in 1963. For several years he worked at filing, but has been running an engine since 1875. In 1876 he began in his present place as engineer at the Bell mill, Spring Lake.
A. A. JONES is a native of New York and came to Spring Lake in 1868. He finished learning the trade of millwright in 1865 and has followed it since that time. In 1872 he built Sisson & Lilley's mill, and has continued in their employ as millwright since that time.
JOHN LOOSEMORE is a native of Canada. In 1868 he came to Spring Lake and entered the employ of Cutler & Savidge. He has been in his present position of engineer at what is known as Mill No. 3 since 1879.
R. H. LEE is a native of Ohio and came to Spring Lake from Wisconsin in 1866. In 1864 he enlisted in the service and received his discharge in 1865. During his term of service he was promoted to first Lieutenant and afterwards to Captain of Company C., 41st Wisconsin Infantry. After coming to Spring Lake he was engaged in the jewelry business there for several years, and at the end of that time removed his business to Grand Haven, but still continues to reside at Spring Lake.
GEORGE G. LOVELL is one of the pioneers of Spring Lake. He was born in Vermont in 1813 and went from there to Kalamazoo County, Mich., in 1832. From there he went to Ionia County where, for eight years he was engaged in the milling business. In 1846 he came to Spring Lake where he has since resided. For many years he has been engaged in lumbering and fruit growing. His fruit farm, which is a splendid one of forty acres, is situated near the village of Spring Lake, and is very valuable. Deacon Lovell, as he is called by his townsmen, is a plain, unassuming man, always noted for integrity and held in high esteem by all who know him.
J. McCLEUR, boat owner, was born in Cattaraugus County, N. Y., in 1832, and came to Grand Haven in 1836, and after a year there, spent many years in Grand Rapids, returning to Grand Haven in 1872. He built the Maude Lillie steam yacht, and in 1881 one to ply up to Nortonville, costing $3,000. He enlisted in 1862 in the 6th Michigan Cavalry, but was discharged for physical disability in 1863. He works near Kirby's ship yard; residence Spring Lake.
M. C. MESSINGER is a native of Vermont and came to Spring Lake in 1855. Mr. Messinger has always been engaged at mill work and has been filing since 1869. He began in his present place as saw filer at the mill of Monroe, Boyce & Co., in the Spring of 1873.
W. H. MILLARD is a native of Michigan. After spending some time in Canada he came to Spring Lake in 1863, and in 1865 purchased a building and opened a meat market. In 1877 E. Devries went into partnership with him, and the business is continued under the firm name of Devries & Co.
JOHN H. NEWCOMB, one of the pioneers of Ottawa County, was born in New York State in 1811. In 1837 he determined to try his fortunes in what was then the far west, and set out upon the slow and toilsome journey to Michigan. He made his way to Muskegon and his first work after reaching that place was to build a mill. He remained at Muskegon until 1841, when he came to the place where the village of Spring Lake now stands. Here he built the first house and the first mill built in the place. From 1842 to 1848 he spent in Chicago selling lumber. In 1848 he was married in Chicago and returned to Spring Lake, and for a time operated a lumber mill, and afterwards engaged in the mercantile business which he continued for several years. He was also engaged in the insurance business, and after going out of the trade he confined his attention to that business which he still continues. Mr. Newcomb had held various town offices, and has always interested himself in the growth and welfare of his town. Having passed the limit of three score years and ten, he is now spending the remainder of his days in quiet comfort, and has the satisfaction of knowing that he holds the esteem of his fellow townsmen, all of whom have a good word to say of "Uncle" John Newcomb.
WILLIAM H. NEWHALL came to Spring Lake in the Spring of 1880, and entered the employ of the Cutler & Savidge Lumber Company as saw filer. He has been at mill work since 1871.
NELSON READ, sailor, Spring Lake, was born in Jefferson County, N. Y., in 1829, and came to Grand Haven in 1862, and has for years sailed on the lakes. He married in 1854 Adeline M. Calhoun, of East Cleveland, O., and has four sons and four daughters.
HENRY RYSDORF is a native of Holland and came to Grand Haven in 1959. For a few years after coming here he worked at the carpenter's trade, and in 1863 went into the lumber business as senior member of the firm of Rysdorp & Co. This firm continued until 1877, when their mill was burned and the firm dissolved in consequence. In 1880 the Grand Haven Lumber Company was formed and Mr. Rysdorp became a member of the company, and since that time has had the management of one of the company's mills, known as the Beech Tree mill.
THOMAS SAVIDGE is a native of Pennsylvania and came to Spring Lake in 1865, and remained for a short time. In 1868 he returned and became connected with the Cutler & Savidge Lumber Company of which his brother, Hunter Savidge, was president. Mr. Savidge has always been actively interested in local affairs, holding various offices and was president of the village of Spring Lake during 1879 and 1880. He is a most genial gentleman and very popular with his fellow townsmen.
GEORGE SCHWAB is a native of France. While a child his parents came to this country, and until 1860 he remained in New York. At that time he came to Spring Lake, and in 1861 enlisted in the service with the 14th Michigan Infantry. He served in the war until 1864, when he received his discharge and returned to Spring Lake. In 1868 he went into the grocery business, which he still continues.
GEORGE SEAGROVE was born in England in 1827, and for several years before coming to this country was in the English navy. In 1855 he came to this country and located at Spring Lake, where he has since resided. The first three years after coming here he worked at lumbering, and then bought a fruit farm in the suburbs of Spring Lake, and has devoted his time to the raising of fruit.
JOB S. SESSIONS, of Spring Lake, was born in Onondaga County, New York, in the memorable year of 1812. In 1833 he came to Michigan and first located in Ionia County. In 1867 he removed to Livingston County, where he remained two years. In 1869 he came to Spring Lake, where he has since resided. For many years Mr. Sessions was engaged at farming, and still lives on a fine farm in the suburbs of Spring Lake. More recently he has been engaged in furnishing fruit packages to fruit growers, and still devotes most of his time during the season to that business. Mr. Sessions is a brother of Hon. Alonzo Sessions, who was Lieut. Governor of Michigan from 1876 to 1880.
WALTER G. SINCLAIR is a native of Illinois, and in 1855 came to Spring Lake from Chicago. For several years Mr. Sinclair was engaged at lumbering in the woods, and in 1879 took the position of foreman and book-keeper for the lumber firm of Sisson & Lilley, in which place he still continues.
O. SLAUGHTER is a native of Holland, and came to this country in 1851. In 1870 he removed to Spring Lake from Eastmanville, Ottawa County, and opened a meat market in which business he still continues.
J. VANDERBERG is a native of Holland and came to Spring Lake in 1858, and has resided here continuously since that time. He has been scaling lumber since 1869.
JOSEPH VOLMER is a native of New York, and came to Spring Lake in 1867, and began work in the mills as an engineer. In 1873 he entered the employ of Sisson & Lilley as engineer at their mill, and has continued in that place ever since.
WARNER VOSS is a native of Holland, and came to this country in 1853. In 1856 he came to Spring Lake, and for twelve years worked for Cutler & Savidge in charge of millwright work. From 1868 to 1873 he was a member of the lumber firm of Monroe, Thompson & Co. In 1873 the mill burned and Mr. Voss built several mills up north, after which he returned to Spring Lake, and at the present time is millwright for the Cutler & Savidge Lumber Company.
Dr. W. S. WALKLEY is a native of Hillsdale, Michigan, and in 1853 came with his parents to Casnovia, Muskegon County. His early life was spent in assisting his father to clear up land and work the farm. In 1864 he enlisted as a private in the 24th Michigan Infantry. He was in active service until the close of the war, and was then engaged in the Freedman's Bureau in North Carolina. In 1877 he graduated at Ann Arbor, and immediately began the practice of medicine. In 1879 he came to Spring Lake and opened an office. He already has an excellent practice and ranks well among the physicians of the county.
WILLIAM WALLACE is a native of Scotland, and came to this country in 1869. In 1870, soon after coming to Michigan, he went into the employ of the Detroit & Grand Haven Railway Company, and in 1874 was made station master and express agent at Spring Lake, where he resides at the present time.
MARTIN WALSH was born in Ireland in 1828, and came to this country in 1849. In the fall of 1856 he came to Spring Lake from New York. At the breaking of the war he enlisted in the service and served the country well until he received his discharge in 1864. He enlisted as a private, and during his service was promoted to First Lieutenant. Mr. Walsh was an excellent soldier and did good service, but was fortunate enough to escape without a bullet scratch, or a taste of hospital life. Upon leaving the service he returned to Spring Lake and opened a store with a general stock of dry goods, clothing, groceries, etc. He still continues in the same business, which has increased to very large proportions, and he now has one of the finest stores in the county. Mr. Walsh is a shrewd business man, and has prospered in his undertakings. He is an active and enterprising citizen, and always ready to lend a helping hand to everything that his judgment approves.
JAMES WEBSTER was born in Spring Lake, June 19, 1855. His father was a day laborer, and young James was brought up to work. In 1859 his parents returned to England and stayed there about one year, returning to Spring Lake in 1860. James has resided there till the present time. In 1881, October 29, he married Miss Ellen Brady, of Spring Lake.
J. N. WILLIAMS is a native of Massachusetts, and came to Spring Lake, and entered the employ of the Cutler & Savidge Company in 1872. In 1879 he was made foreman of the mill known as mill No. 3, which position he still holds. Mr. Williams has been at mill work since 1867.
FREDERICK WILLIE was born in January 1850, and when 18 years of age, left his native land, landing in New York on the 15th of September, 1868. Thence he pushed on to Milwaukee, and afterwards to Manistee, returning in 1871 to Milwaukee. Next year he removed to Muskegon City, but in the same year he went to work in the Ferrysburg Iron Works. In 1879 he commenced work for the Cutler & Savidge Lumber Company, in whose employ he still is. In 1872 he married Abbie Hudson, of Ferrysburg, by whom he has three children.
ALEXANDER WOOD was born in Scotland in 1839, and came to this country in 1849. For some time prior to the war he was agent for the Creek Indians, in the Indian Territory. At the commencement of the war he was taken prisoner by Confederate soldiers, and was kept at work at his trade, blacksmithing, in Texas and that vicinity until the close of the war. He was an excellent mechanic, and that probably saved him his life. At the close of the war he went into Arkansas, and was in the employ of the Government for two years. At the end of that time he went to Wisconsin, where he remained two years and then came to Spring Lake, where he has since resided and carried on the business of blacksmithing.
_____
NORTONVILLE.
Nortonville, two miles up the river above Spring Lake, was founded by Col. Amos Norton, who arrived in 1837 and built Norton's mill. There is a public school, which is part of the village system of schools, under Miss Edith Miller, with sixty-five pupils. Mr. Norton, Jabez Barber and Mr. Middlemiss, the latter of whom sold out the Washington House at the Haven and kept the Barber Boarding House at Mill Point, were all Canadian patriots in 1837, and early pioneers of Spring Lake.
At Nortonville, the great industry is sawmilling. The mill of WHITE, FRIANT & CO., called the Nortonville mill, has a cutting capacity of 200,000 feet per day, an engine of 400 horse-power, which, in 1881, was supplemented by another of half that power, and employs on an average 150 men. The officers of the mill are: Foreman, C. J. Abbott; engineer, J. H. Norris; filers, R. Gebott and Archie Sullivan; bookkeeper, Wm. Stewart; millwright, Wm. Brough.
The foreman, C.J. ABBOTT, was born in London, Ontario, in 1854, and came to this State in 1867, engaging in the lumber business, and has for the last five years worked for his present employers. In 1880 he married Miss Lillie F. Crane, born in Greenville, Michigan.
The engineer, JAMES H. NORRIS, was born in Washtenaw County, Mich., in 1830, removed thence to Kent County, and in 1869 came to Grand Haven, for three months acting as foreman in Friant & Hall's sawmill when he was promoted to engineer, laboring seven years with the same firm. He has also been engineer of tugs for several years, among these was the "Claude." On April 6th, 1853, he married Carolina A. Friant, by whom he has had two children, one of whom survives.
R. H. GEBOTT, saw-filer, was born in Caistor, Lincoln County, Ontario, in 1855, and at 12 years of age moved to Wellington Co., Ontario. In 1881 he came to Grand Haven, going at once to work at his trade of saw-filing. On January 17th, 1881, he married Orvilla Horn, who was also born at Caistor, Ontario, in 1854.
ALEXANDER L. JEFFERS, blacksmith at White & Friant's mill was born in Watertown, Jefferson County, N. Y., in 1838, and came to Nortonville to his present sitation in 1880. In 1863 he married Mary Anne O'Hara, who died in 1871, leaving three children. In the following year he married Mary Holley.
GEORGE E. VAN ETTEN was born in New York State, and came to Spoonville in 1877, working for two years for John Spoon in his mill. Since then he has worked in White & Friant's mill at Nortonville. In 1870 he married Miss N. Murphy, by whom he has three children.
WILLIAM BROUGH, millwright, was born in Scotland in 1828, and at three years of age his parents immigrated to America. He came to Michigan in 1865, having previously learned his trade in Canada. Mr. B has been twice married, first to Miss Adelina Kelly, who died in 1872, and next to Miss Ida Rich in 1875. He has two sons and one daughter, and his home is in Grand Rapids.
JOSEPH L. JACKSON, carpenter, came to Nortonville in 1880, having resided in Grand Haven since 1876. He was born in Wayne County, N. Y., in 1844. In 1868 he married Miss Caroline Andrews, by whom he has three sons and three daughters. He served his country two years in the Thirty-third New York Infantry, and seven months in the Second Ohio Cavalry during the late war.
JOHN BRADY, who is also employed in White, Friant & Co.'s mill at Nortonville, is a son of Thomas Brady, and was born in Canada, in 1853.
_____
FERRYSBURG.
This is a small village at the outlet of Spring Lake, and is opposite the village of Spring Lake, and just across Grand River from Grand Haven. It was settled by the Ferry brothers in 1857. It is noted as the location of the Ottawa Iron Works, which is quite an extensive establishment, and turns out quite a large quantity of machinery of all kinds. Johnston's boiler works are also located here. It has one large sawmill, lately owned by Mr. Batcheller, but recently with his pine lands purchased by the Grand Haven Lumber Company for $110,000, and will be run next season by it. Extensive repairs and improvements will be made in the mill this winter; a gang of saws will be put in. There is one general store, a meat market and a post office. It is at the junction of the D., G. H. & M., and the C. & W. M. Railroads, and has a station, where there is a change of cars for the East.
THE OTTAWA IRON WORKS is an old and established institution, which is being greatly enlarged and extended under the energetic management of Mr. W. F. Parish, the other members of the firm being Senator Ferry and Andrew Thomson. They now employ about 150 men, but intend to add to their already large buildings. It was established in 1855 and entirely rebuilt in 1880 and manufactures steam pumps stationary and marine engines, propeller wheels, and general foundry work; offices, Ferrysburg and Grand Haven. The works in Ferrysburg are closely connected with water and rail communication, the river being at the door, and sidings being built from the railway. Mr. Parish's ambition is to make it the largest establishment of its kind in the West, as it has an unrivaled position. Mr. Parish has a great many valuable patents of his own and is still getting out more. He is a native of Elgin County, Ontario, has had a great deal of experience and is the right man in the right place.
The foreman in W. SECHRIST, born in Erie, Pa., in 1852; came with Mr. Parish from Erie, having worked under him as superintendent of the Stearns Company. Married, 1871, Elizabeth Bibel, of Erie, and has two daughters and one son.
The draughtsman is a brilliant young German artist, RUDOLPH SCHENCK, born in Baden, 1859, who was six or seven years at a gymnasium, and two years at Stuttgart Polytechnic, also three years in a machine shop. Came to Chicago in 1880 and has been in his present place since January 1, 1881.
BOILER WORKS.
Thomas and James B. Johnston constitute the firm of Johnston Bros., proprietors of the Ferrysburg Boiler Works, located at Ferrysburg. The business was established by J. W. Johnston, who was succeeded by the present firm in 1880. They do a large and prosperous business, mostly in marine work, and employ about thirty men.
BIOGRAPHICAL.
U. B. EAMES is a native of New York state, and came to Ferrysburg in 1848. He has always followed his trade, that of millwright, and for eight years prior to the spring of 1881, was millwright at the Bacheller mill. In the spring of 1881 he took his present position of millwright for the Cutler & Savidge Lumber Company, at their mill No. 3.
B. F. RICHARDSON is a native of Maine, and came to Spring Lake in 1838. Since June 1881 he has been saw filer at the Bacheller mill, and was in the same mill from 1873 to 1879. Mr. Richardson has been filing for 33 years, all of the time in Ottawa County, and is the oldest saw filer in the State of Michigan.
G. F. SHIPPEY came to Grand Haven in 1875 to take charge of the mill and lumber business of Webster Bacheller at Ferrysburg. He has been interested in the business of the firm since 1866, and attended to the sales of lumber in Chicago.
A. S. PARRISH, engineer at the Bacheller mill at Ferrysburg, has been in that position since July 1881. He came to Grand Haven in 1878, and for two years and a half was master mechanic of the Grand Haven Railroad. Previous to that time he lived for several years at White Pigeon, Michigan, and was master mechanic of a branch of the Lake Shore & Michigan Southern road. He was in the navy from 1864 to the close of the war.
ROELOF OSTERHOFF, merchant, was born in Holland, July 2, 1830, in the province of Groningen, and came to America in 1855, working as a carpenter on Mr. Ferry's residence in Ferrysburg. He then worked seventeen years in the pattern shop of the Ottawa Iron Works, and for the last eight years he has been engaged in mercantile business. He married, in 1857, Miss Jane Griede, who died October 28, 1874, leaving eight children to mourn her demise.
---
Transcriber: Leslie Coulson
Created: 13 July 2006
URL: http://ottawa.migenweb.net/twprecords/1882springlk.html