Miscellaneous Photos & Postcards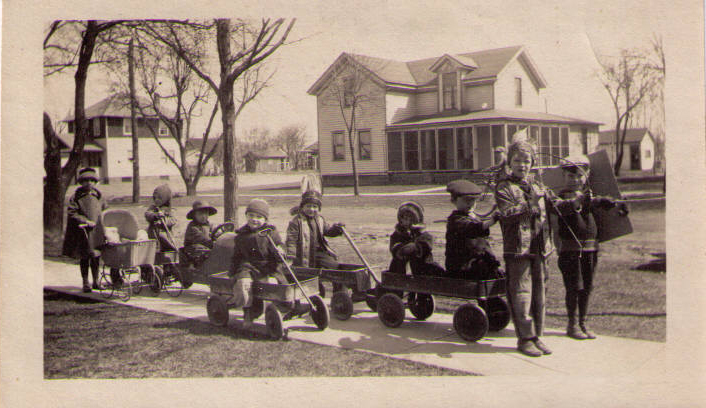 Donated byJohn Stark
This photo was taken by his grandmother, Grace (Merrell) Thorne
in front of her home at 111 N. Adams St. about April 1926/27.
No year is listed, but the month was April.
Front to Rear: Howard Bacon, Jr. Sheap, Glen Beeber, Dorothy Brooks, Merrell Thorne,
Charles H (Hermsjeter?), Stanly Sheap, Doris M(?), Elizabeth Thorne (John's mother).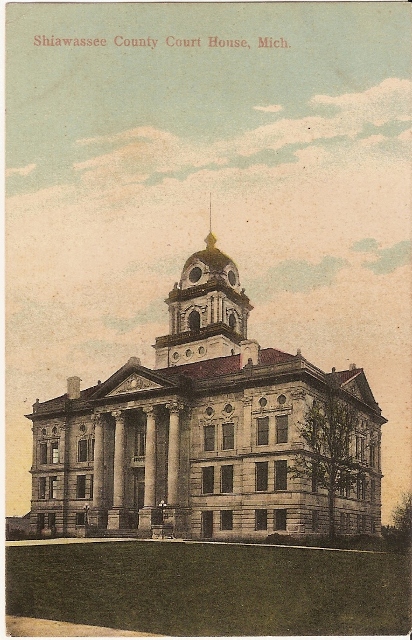 Donated by Pamela Cutway
Postmark on back is 1907.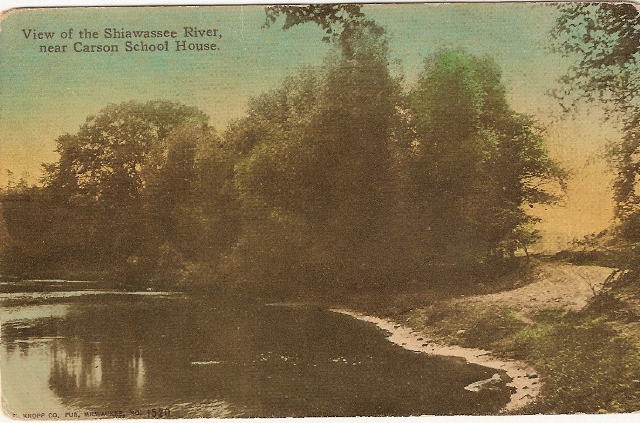 Donated by Pamela Cutway
No date on the back of the postcard.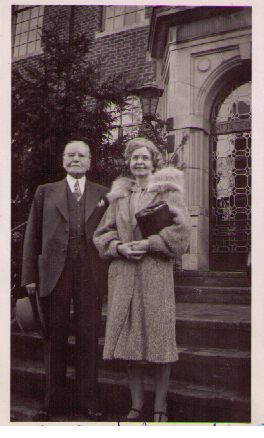 Donated by John Stark
Mr. & Mrs. Jameson, September 1941.
It is in front of a school, so they may have worked with John's grandmother, Grace Thorne.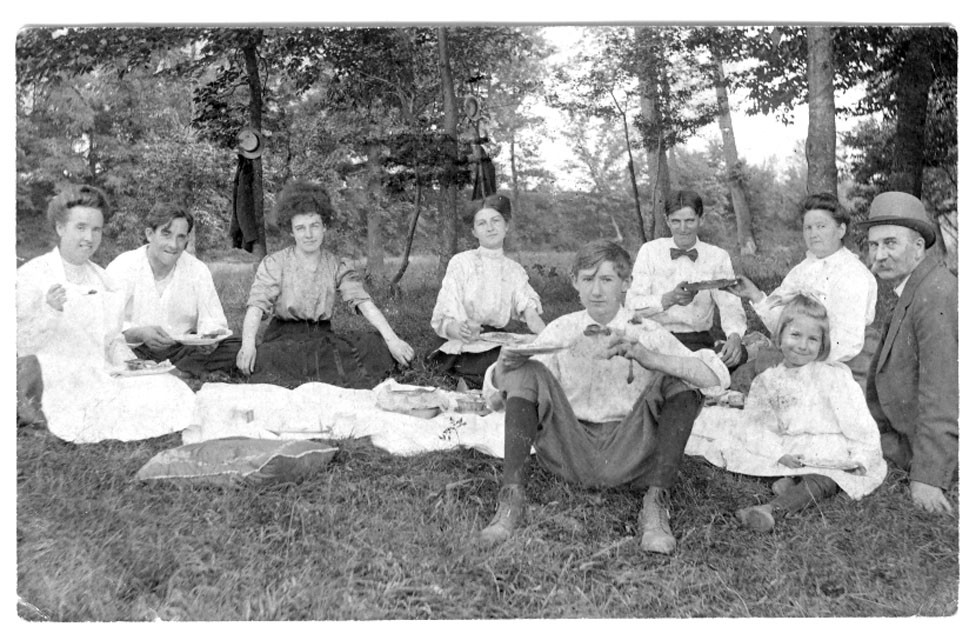 Contributed 2009 by Lynne Mitchell Corbett
The three on the left are 'unknowns';
next, from left to right are my Grandmother, Blanche "Linnie" Bennett, Grandfather, Claude Newcomb Mitchell, Great-grandmother, Mary Amelia Post Bennett, Great-grandfather, William Orlando Bennett and in the front on the right are my great-uncle, Howard William Bennett and great-aunt, Garnie Vivian Bennett.
The photo was postmarked Aug. 1909 and taken in either Shiawassee or Genesee Co. I think most likely Genesee Co. area.
In 1900 William Orlando Bennett and family lived in Byron, Burns Twp., Shiawassee Co.
In 1910 they were living on Mason St., Flint, Genesee County, MI.
In 1910 Linnie Bennett and Claude Mitchell marr. in Flint, Genesee Co., MI.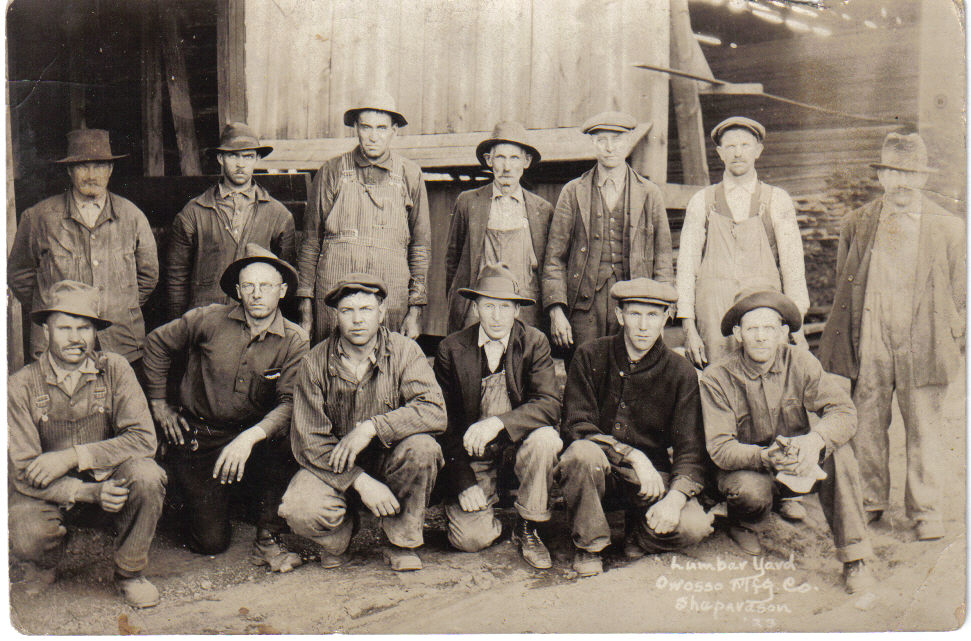 Contributed 2009 by Debra Noble
This picture is of my grandfather Abner E. Van Doren (bottom row, third from left) and the rest of the crew at the Owosso Lumber Company. The date is probably in the late 20's or early 30's.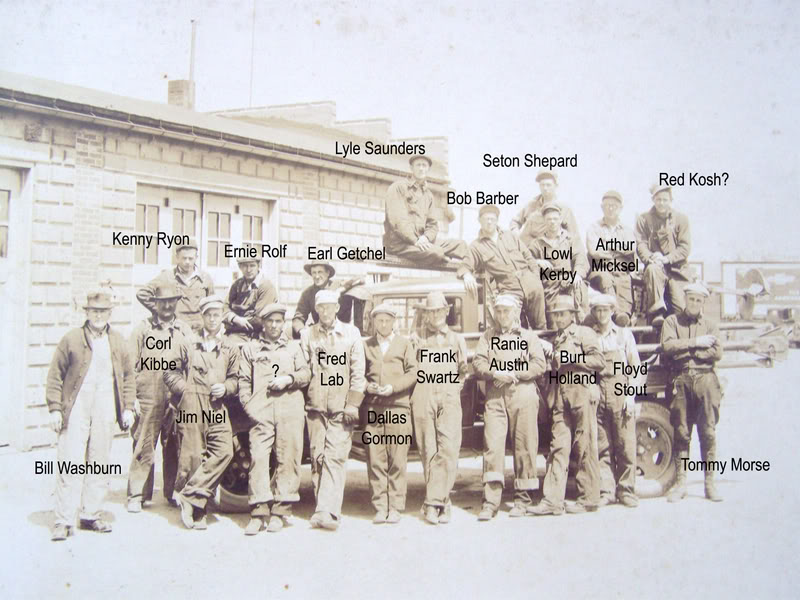 Contributed May 2010 by Sherry Carsten
This picture is of Owosso Consumer employees circa 1930's-1940's owned by Seton Shepard and provided to me (with names) by him.
Names: Bill Washburn, Kenny Ryon, Corl Kibbe, Jim Niel, Ernie Rolf, Fred Lab, Earl Getchel, Dallas Gormon, Lyle Saunders, Bob Barber, Seton Shepard, Frank Swartz, Ranie Austin, Low Kerby, Burt Holland, Arthur Micksel, Red Kosh?, Floyd Stout, Tommy Morse, and 1 unidentified.
---

This information is made available to the public for non-commercial purposes.

This page was last updated Saturday, 01-May-2010 07:44:57 MDT