KALAMAZOO COUNTY, MI
GENEALOGY & LOCAL HISTORY
click on image to enlarge it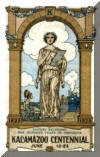 Centennial Cover
The City of Kalamazoo, Michigan celebrated the centenary ( 1829 - 1929 ) of the founding of Kalamazoo by establishing committees to organize the events for the occasion. The committees published a program that itemized the events and provided a background history of Kalamazoo.
Centennial Official Program
Photograph of the "Grand Historical Parade" as listed in the program: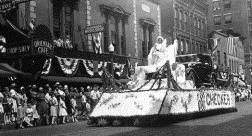 Click on links to open pages
Return to Kalamazoo Co. Michigan USGenWeb page
All rights reserved.
This site may be freely linked to but not duplicated
in any fashion without my consent.
The information on these pages is meant for personal genealogical
research only and is not for commercial use of any type.