Bloomer Township
Montcalm County, Michigan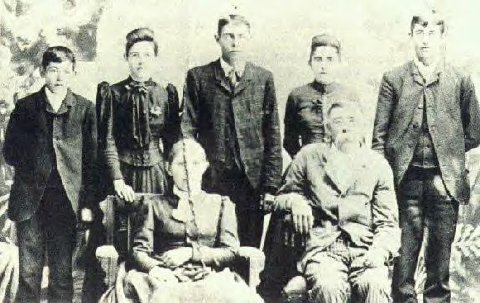 Nancy and William F. Bigelow (seated) in 1860, at marriage.
(standing L-R) Samuel, Sally,
probably Zadock, Elizabeth,Cornelius J.
William Franklin Bigelow was born 27 Aug 1812 at Cambridge, Washington co, NY. During the war of 1812, the family moved to Schoharie co, NY, where he is is listed as "Franklin, age 8," on his father's application for a military pension. On reaching adult years, William followed his brothers to Delaware co, where he married Elizabeth Earl on 16 July 1834. She was born 1814 in New York state to unknown parents. They lived in Andes township until 1853, when they removed to Michigan, following William's oldest brother Elijah.
William settled in Bloomer township, Montcalm county, near Carson City. There his wife Eliza died in July 1859, leaving ten children. William then married (2) on 23 Jan 1860 Nancy Maria Brown, born 3 May 1845 in Medina county, OH. Fifteen years old at their marriage, Nancy is shown as a young girl seated beside William in their wedding photo.
During the Civil War, William enlisted as a private in Co D, 3rd Michigan Regiment, and served from 1864 to 1865, when he was given an honorable discharge, he being unfit for duty after contracting camp dysentery. In order to enlist he had given his age as ten years younger than it actually was, but this was corrected when William applied for a pension.
After the war, William and his brother Cornelius removed to Maxville, Buffalo county, WI, where they lived a nurnber of years (roughly 1869-1875), at which time William returned to Michigan. He settled in New Haven, Gratiot county, MI, and died there 29 Dec 1891. He is buried in a cemetery near Carson City, Montcalm county. His widow Nancy outlived him by many years. Her widow's pension papers show she died at Bay City, Bay county, MI 5 Feb 1925, but there appears to be no county record.

Information provided, 2005, by:
Bob Montgomery . . . updated below, 2006 (click photo to enlarge):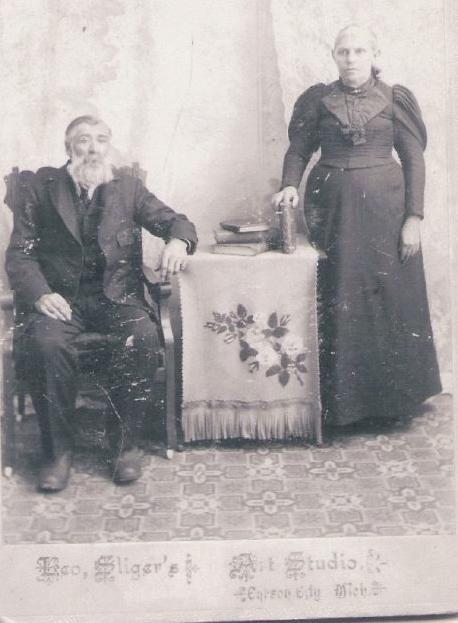 Cornelius Jeremiah "Jerry" BIGELOW, Was born 13 March 1842 in Andes township, Delaware, NY. The family moved to Montcalm County, MI in 1853 and Cornelius was listed in 1860 census as living at home. He married, Montcalm County, on 09 December 1861 Rosannah Osterhout, daughter of William and Lena Osterhout. She was born 16 August 1840 in Cayuga County, NY.

Cornelius enlisted during the Civil War and served in Company D, 3rd MI Infantry.

They lived in New Haven, Gratiot County, all of their married lives. Cornelius was nicknamed "Jerry" to distinguish him from other Cornelius Bigelows in the family. He died 0l March 1899 New Haven township. His widow died 15 February 1908. Both are buried in New Haven township cemetery.