This page was last updated Friday, 23-Sep-2011 23:53:24 MDT
Eureka Township
Montcalm County, Michigan
George B. RACE
& Joel BEEMAN
Michigan Cavalry
by Rae Yvonne (Wright) Swan
re-printed here with permission


From Ionia County, Michigan. George enlisted at Greenville, Michigan for 3 years of service at the age of 19 on September 11, 1862. He took the muster oath on October 2, 1861. He served his full term of enlistment with the 2nd Cavalry and was discharged on October 22, 1864 at Nashville, Tennessee.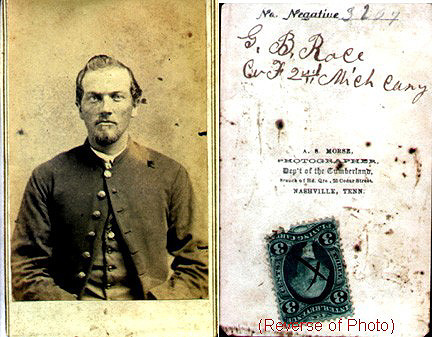 This photo is from a collection that was discovered in a small leather album among the photos in a family collection in the basement of my Great Aunt Irene Wright Gregarek, on Island Road, Charlotte, Michigan, after her passing in 1997. The name Joel is inscribed on the inside and it is believed to have belonged to my ggg grandfather, Amos Beeman's brother Joel Beeman.

Joel served with the 2nd Michigan Cavalry, Company F. during the Civil War. He enlisted from Grand Rapids, Michigan on 2 Sep 1861 at age 28 with the rank of saddler. Claimed residence in Kent County. Promoted to Full Sergeant on 1 Nov 1864 and mustered out at Macon, Ga on 17 Aug 1865.

These faces have been looking back at me for several years and I feel that I now have a kinship to them all, not just Joel Beeman. I hope all those interested in the 2nd Michigan Cavalry and the descendants of these men enjoy the images as much as I have.

Any additional information on these men would be greatly appreciated.
---
Photos submitted by Rae Yvonne (Wright) Swan


If you have additions or corrections please contact Paula Johnson
Copyright © 1996-2017 - Montcalm County MIGenWeb



These electronic pages (or any portions thereof), including GRAPHICS & PHOTOS may NOT be copied, saved, or reproduced
in any format for presentation or publication by individuals, organizations, newspapers, etc. (all are copyrighted).
---
Current County Coordinator: Paula Johnson (c) 2017
Previous content & design by: Gerry Christiansen (c) 2007-2016
Kevin Everingham (c) 2003-2007, Kathleen Rodegeb (c) 2000-2002, Dave Wheeler (c)1998-2000
Beth Wills (c)1996-1997