Pine Township
Montcalm County, Michigan
Ferdinand Fitzner Family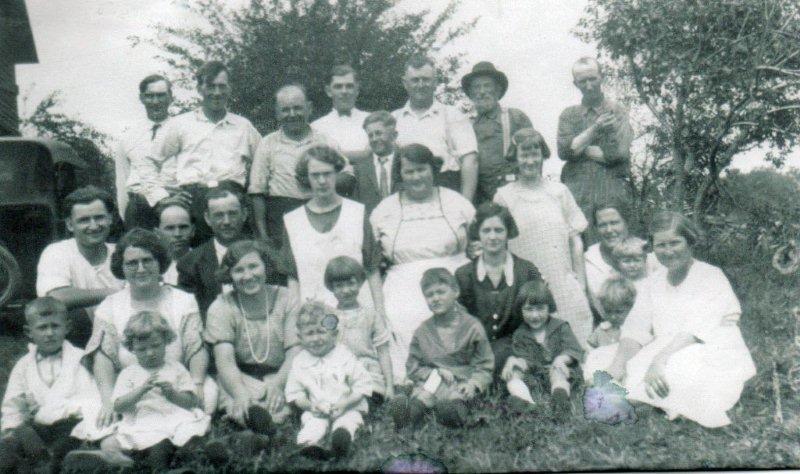 Fitzner Family reunion in 1924 at the Ferdinand Fitzner farm on Fitzner Rd., in Pine Township.
Back row L to R: Leo Fitzner, George Allen, Adolph Hoenes, Louie Fitzner, unknown, Ferdinand Fitzner, Issac Williams.
Next row L to R: Elton Fitzner, George Fitzner, Joe Fitzner, Nina Fitzner, Nora Fitzner Hoenes, unknown, Celia Fitzner holding Don Fitzner.
Next row L to R: Clara Fitzner, Mary Fitzner Allen, Darlene Allen, Gertrude Fitzner, Flora Fitzner Williams.
Children in front row L to R: George Allen Jr., Doris Allen, Harold Fitzner, Laurence & Louise Fitzner, Arthur Fitzner (near Flora).

---
Family History
Ferdinand Fitzner came to Pine Township with this mother Rosina Fetzner Zeigler and step father Michael Zeigler in 1868. The Zeigler's bought 160 acres on Bale Rd. and built a house and barn. The homestead earned the MI Centennial Award for being in the same family for over 100 years. Ferdinand married Helena Zolz and settled in Pine Township on land he purchased. He ran a stump pulling business and built masonry buildings and items. They raised 8 children and many Grandchildren. Many of the great grandchildren still live in the area (2010).


---
(Information courtesy of Debbie Elliott GG Granddaughter of Ferdinand & Helena Fitzner.)
---
If you have additions or corrections please contact Paula Johnson
Copyright © 1996-2017 - Montcalm County MIGenWeb



These electronic pages (or any portions thereof), including GRAPHICS & PHOTOS may NOT be copied, saved, or reproduced
in any format for presentation or publication by individuals, organizations, newspapers, etc. (all are copyrighted).
---
Current County Coordinator: Paula Johnson (c) 2017
Previous content & design by: Gerry Christiansen (c) 2007-2016
Kevin Everingham (c) 2003-2007, Kathleen Rodegeb (c) 2000-2002, Dave Wheeler (c)1998-2000
Beth Wills (c)1996-1997