Richland Township
Montcalm County, Michigan
The settlement in Richland township, is known as Vestaburg. The first settler in the area was Charles Deaner in 1860. In 1874, the village was platted by Mr. George W. O'Donnell and named for his wife, Vesta Burgess O'Donnell.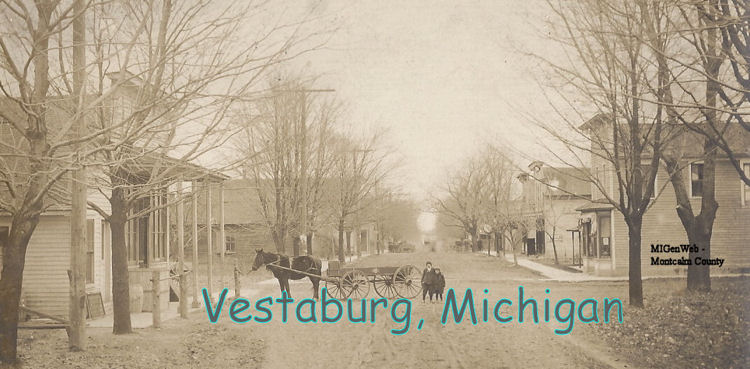 This page was last updated Monday, 22-Feb-2016 12:44:27 MST
If you have additions or corrections please contact Paula Johnson
Copyright © 1996-2017 - Montcalm County MIGenWeb



These electronic pages (or any portions thereof), including GRAPHICS & PHOTOS may NOT be copied, saved, or reproduced
in any format for presentation or publication by individuals, organizations, newspapers, etc. (all are copyrighted).
---
Current County Coordinator: Paula Johnson (c) 2017
Previous content & design by: Gerry Christiansen (c) 2007-2016
Kevin Everingham (c) 2003-2007, Kathleen Rodegeb (c) 2000-2002, Dave Wheeler (c)1998-2000
Beth Wills (c)1996-1997